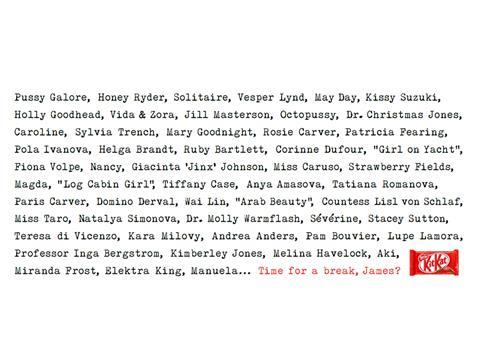 Nestlé has unveiled a cheeky Kit Kat poster to tie in with the release of new Bond movie Spectre today [26 October].
Appearing in just two locations - as a 48-sheet poster in Camden and on a digital projector display at Oxford Circus Tube station next to an official poster for the movie - the ad lists the main Bond girls and ends with the tag line 'Time for a break, James?'.
"As the champion of breaks, Kit Kat felt it only right to offer one of the world's longest-serving spies a little break from the arduous and often physically exhausting tasks he is forced to undertake for Queen and country," said Alex Ball of JWT, the agency behind the campaign.
Other Bond-related marketing activity has included the launch last month of an international TV and cinema ad for Heineken as part of its partnership with Spectre. The beer brand is the only partner of the film to release an ad starring Craig as 007. Heineken is also rolling out limited-edition Spectre bottles, which can be scanned to unlock digital content with Craig, as well as behind the scenes footage.
Belvedere vodka last month launched a global TV campaign starring Stephanie Sigman, who plays the role of Estrella in the opening scene of Spectre, and details the intricacies of 007's beloved vodka Martini cocktail.