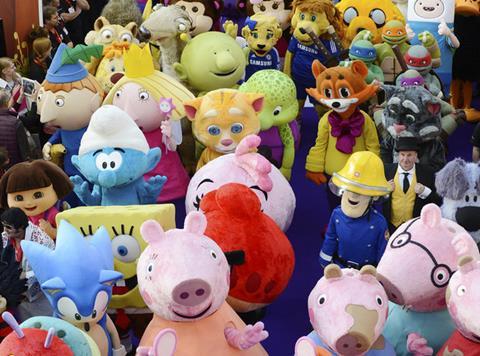 At some point this week, I will leave the loving embrace of Grocer Towers in order to rub shoulders with a host of bizarre and fantastic creatures.
While I could stay in the office and enjoy The Grocer's own menagerie of the bizarre and fantastic, I will be heading to London's Olympia for Brand Licensing Europe 2015 (BLE), which bills itself as Europe's premier licensing exhibition.
BLE, which opened today and runs through to Thursday, gives retailers and suppliers the opportunity to see the current hot licensed properties and – more importantly – those that could be hot in years to come. The 'bizarre and fantastic creatures' take the form of the dozens of mascots that roam the show floor – even taking part in a parade on the first day of the show (picture Smurfs, Clangers and the Teenage Mutant Ninja Turtles partying hard and you've got the idea).
But behind all the fun – and BLE is a fun place – is a very serious business. Reading the global licensing industry survey published by the international Licensing Industry Merchandisers' Association (Lima) last week shows just how serious in terms of cold, hard cash.
At a global level, licensed merchandise and services were worth $241.5bn (£160bn) and generated $13.4bn in royalty revenue for the owners of trademarks. Character and entertainment licensing – such as all those Frozen and Minions products passing through tills – made up the biggest share of that, at 44.4%.
The fact that really struck me was that the UK is the third-largest retail market for licensed merchandise. At $11.9bn, it is only just behind Japan ($12.2bn), though dwarfed by the US at $133.3bn.
Of the £8bn Brits splashed out on licensed products last year, toys and clothes accounted for more than half, with a good chunk spent on fashion accessories, health & beauty products and books & magazines. But a cool £500m went on licensed food and drink products, with more than half on character-licensed goods (those Peppa Pig pasta shapes add up), and most of the remainder on the subjects of brand licensing deals, such as the Cadbury cakes produced by Premier Foods.
Little wonder, then, that brand licensing is of growing importance to many retailers. Since 2010, BLE has been running a Retail Mentoring Programme for buyers, and the number taking part has grown each year, says BLE event director Darren Brechin. Seven new retailers have joined the programme in the past year, including Argos and Asda.
"Retailers are realising how important licensing is becoming, and will be in the future for their day to day jobs," says Brechin, adding Tesco has this year made the mentoring programme part of its buyers' formal training programme.
This summer's cinema releases – including Minions, Jurassic World and the latest Avengers film – will have reinforced the value of characters to retailers. But even those powerhouse brands face a serious rival in the coming months – with a new Star Wars movie just 65 days (and eight hours) away as I write this – licensing has another great opportunity to show it is a force to be reckoned with in store.