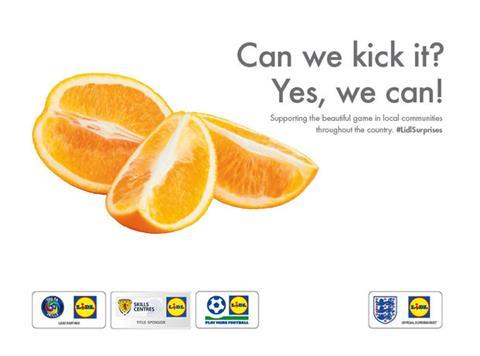 Discount supermarket Lidl has announced a partnership with the football associations of England (FA), Scotland (SFA) and Wales (FAW) which will see it sponsor the 'grassroots' of the game.
The German retailer is looking to build its health credentials by providing professional coaching and a claimed "1.5m opportunities" for children to play football every year.
As part of the new deal, Lidl will also become the FA's Lead Skills Partner, the England Team's official supermarket, and official supplier of certain products to the FAW and the SFA.
The partnership commences tonight (17 November), tieing in with England's friendly against France.
Martin Glenn, CEO of The FA said: "Lidl have joined us at an exciting time as we focus our efforts on supporting the grassroots movement through better facilities and coaching. The Skills programme is a great opportunity for young people to get involved in the game, hone their talents and have fun."
The sponsorship deal follows Aldi becoming the supermarket partner of Team GB and Müller Dairy sponsoring countrywide athletics activity in the run-up to the 2016 Olympics.