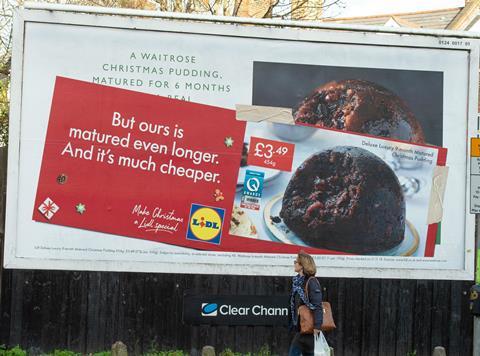 Lidl has launched a cheeky advertising campaign with billboard mock-ups of Marks & Spencer and Waitrose posters plastered over with the discounter's own.

The ads, which are located close to the rivals' stores, highlight the lower prices in Lidl of products including Christmas pudding and mince pies.

They were launched nationwide yesterday (4 December).

"Our Deluxe range offers customers the best value and quality in the market and these ads are all about us getting that message out there," said Lidl UK commercial director Ryan McDonnell.

"Shopping anywhere else means customers are paying more than they need to for great Christmas products."

Lidl also recently teased John Lewis with a tweet advertising an £89.99 electronic keyboard with the message 'It's a Lidl bit funny', a reference to John Lewis' big-budget Christmas TV ad starring Elton John.

John Lewis responded with a picture of a £15 toy 'My First Piano' and the message 'It's a Lidl bit cheaper'.