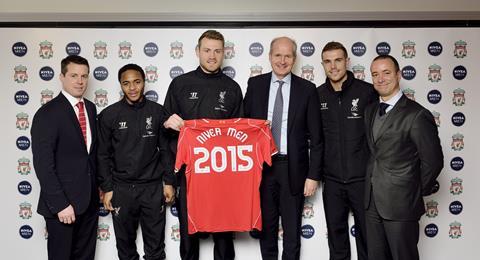 Nivea Men has signed up as the official men's grooming partner for Liverpool Football Club.
The deal kicked off Friday (13th February) with a TV ad - starring three of the Barclays Premier League team's players, which will be supported by PoS, digital and social media activity.
Filmed on location in Liverpool, the TV ad features the Anfield trio - Jordan Henderson, Simon Mignolet and Raheem Sterling, put Nivea Men Stress Protect deodorant through its paces on the way to an important match.
Designed to "inspire men to unlock their potential through preparation", the ad is based on a 'It starts with you' strapline.
"Liverpool FC represents passion, quality and integrity – values shared by Nivea Men, and we're excited about the prospect of creating a memorable marketing campaign over the coming years with the help of the club, its star players, staff and fans," said Andreas Ostermayr, Northern Europe general manager for brand owner Beiersdorf.
The deal spans five Northern European countries - UK, Sweden, Denmark, Finland and Norway, but Beiersdorf was unable to confirm the length of the partnership.
Chief commercial officer for Liverpool FC Billy Hogan said: "Nivea Men is one of the most recognised skin care names across the globe and we are delighted the brand has chosen to partner with Liverpool FC."