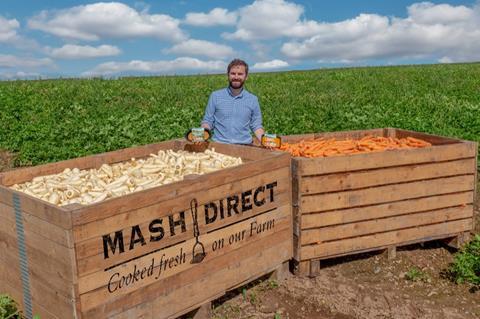 Mash Direct has become the latest business to remove its advertising from Facebook over issues with the social media giant's handling of racism and hate speech.
The Northern Ireland-based prepared veg supplier said it had paused all advertising on the platform, as well as Facebook-owned app Instagram, until either the end of July or until Facebook committed to "a clear strategy to act against hate and disinformation".
"Earlier this month we communicated to Facebook that we were unhappy with their stance on hate speech," said COO Jack Hamilton. "Given the lack of action, we have chosen to put our money where our mouth is and cease advertising.
"As an SME, Facebook makes up a significant chunk of our advertising spend and our overall budget so this was not a decision that we look lightly."
The company said it would re-route its marketing spend to both on-pack and in-store activations in the interim. It has also announced it will be giving away more than £3,000 of vouchers to redeem at Northern Ireland restaurants this month.
It comes after Facebook was accused by racial equality campaigners of not doing enough to combat racism and hate speech in the wake of the global protests following the killing of George Floyd in the US.
In a bid to get the social media company to be more proactive in labelling and removing harmful content, the #StopHateforProfit push has targeted its revenues by calling on companies to pause advertising on the platform.
So far, major food and drink businesses such as Ben & Jerry's, Coca-Cola and PepsiCo have stopped marketing on the site.
In a letter to advertising trade magazine Ad Age, Facebook global affairs chief Nick Clegg wrote that only "a tiny fraction" of interactions on Facebook were "hateful" and added that the platform was making "real progress" in combatting hate speech.
"When we find hateful posts on Facebook and Instagram, we take a zero-tolerance approach and remove them," he wrote.
"Unfortunately, zero tolerance doesn't mean zero incidences. We invest billions of dollars each year in people and technology to keep our platform safe. We have tripled — to more than 35,000 — the people working on safety and security. We're a pioneer in artificial intelligence technology to remove hateful content at scale."