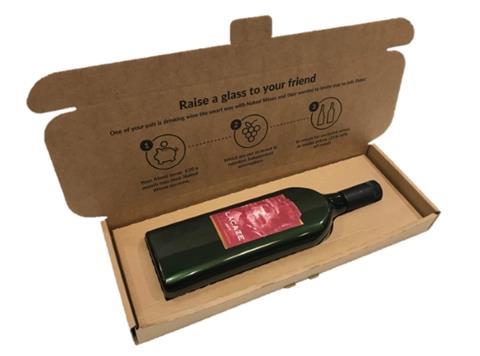 Naked Wines is to send flat 'letterbox-friendly' recyclable plastic bottles of wine to potential new customers.
The online retailer has teamed up with Garçon Wines, the manufacturer behind the eco-friendly, flat wine bottles, for the scheme, which allows existing Naked Wines subscribers (or 'Angels' as Naked calls them) to send a bottle of Lacaze Cabernet Sauvignon to friends yet to join the service, instead of the money-off vouchers Naked has become known for.
The bottles are made from 100% post-consumer recycled PET and are billed as being 40% spatially smaller and 87% lighter than round, glass bottles of the same volume (750ml).
Garçon Wines CEO Santiago Navarro said: "We believe this is the next step up from the immensely successful voucher campaigns [Naked Wines] have run to date."
The move could also "help grow the gifting side of their business", he added.
It comes as part of a major marketing drive by Naked Wines parent company Majestic to draw in new customers.
The company announced last year plans to invest up to £12m into enlarging its customer base, claiming its opportunity to do so was "materially bigger than previously thought".
Despite three years of a promising turnaround, Majestic fell to a first-half loss of £0.2m in its latest results, blaming a "tough" retail market and investment in growth.
Naked Wines, however, gave a strong performance - its underlying sales growth jumped from 11.6% in the second half of the past financial year to 14% in the first half of the current one - hitting £75.7m.