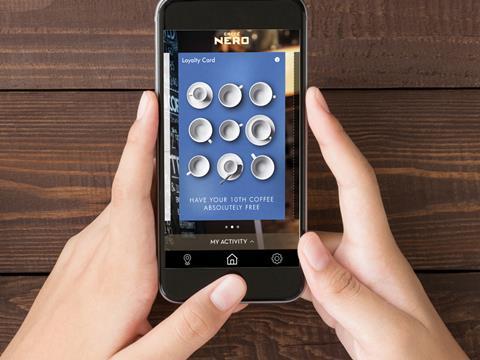 Caffè Nero is launching an app that will ultimately make its 20-year-old paper stamp loyalty cards redundant.

The app, powered by digital payment service Yoyo Wallet, will allow customers to collect stamps and receive tailored offers through their phones from 10 April.

Unlike the Starbucks rewards app, the Caffè Nero service allows customers to pay directly by scanning a QR code generated on their phone without pre-paying on the electronic card.

Caffè Nero will also be able to collect data about customers including the type of products they buy and the frequency and timing of their visits.

The retailer said by collecting data it was able to generate rewards and incentives to target customers individually.

"We will be able to use the app to recognise someone who is coming in less frequently than they used to and incentivise them with free stamps," said Caffè Nero head of marketing Marcus Denison-Smith.

"We'll also be able to spot if a customer has never bought any food products and we can incentivise them will free stamps if they try a panini or a cake. In-store it's difficult to offer stamps for food purchases but if we have the control of the rewards through the app, we can discreetly target certain customer groups and get them to try new products that are coming in."

According to research by Yoyo Wallet, customers lose an estimated 87 million loyalty cards every year and at least five million Caffè Nero stamps currently go unredeemed.

"That equates to about half a million coffees going unredeemed at a place like Caffè Nero," said CEO of Yoyo Wallet Alain Falys.

"Contrary to popular belief, it doesn't help the retailer if free coffees go unredeemed; they want to reward your loyalty and they want you to come back more often."

Currently, Caffè Nero will still accept paper loyalty cards and will give customers the option to transfer their paper balances to the app.
"Our paper card is much-loved and used by millions of our customers worldwide; it will continue to be available in all stores," said a Caffè Nero spokeswoman.
"With the new Caffè Nero app we're trying to enhance the customer experience and make it even more rewarding. We feel choice is important when it comes to customer loyalty."