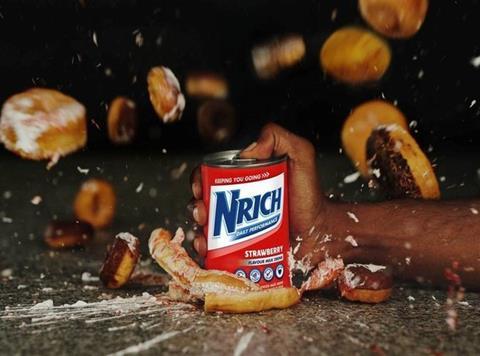 NRICH has launched a digital marketing drive consisting of seven videos of a can of the milk drink destroying 'unhealthy' foods and beverages.

The #SMASHIT campaign, created by agency Kindred, began last week with a clip of a large bowl of mixed sweets being smashed to pieces. This was following by a cocktail being similarly obliterated along with its glass. NRICH has promised chips and doughnuts will be among the foods getting the same brutal treatment in coming weeks.

"This is a very exciting time for NRICH, and #SMASHIT is our biggest marketing investment to date," said marketing manager Jag Singh. "It forms part of a much bigger plan to growth and consumer awareness over the next three years. #SMASHIT will not only begin engaging a mass audience, but will also reach out to health and fitness enthusiasts, sports fans and those who just love flavoured milk drinks."

NRICH has a number of variations listed in Tesco and Asda.