Although new rules are not yet enshrined into UK law, the government has signalled its plan to introduce restrictions on the marketing of HFSS products from 2022
In-store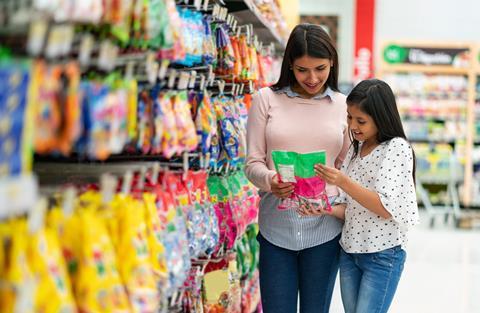 Confectionery-packed checkouts were dubbed 'guilt lanes' following a slip of the tongue by Asda's then-corporate affairs director Sian Jarvis during a 2012 radio interview. Ever since, there's been plenty of scrutiny on the placement of chocolate bars and sweets in stores.
It's seen the majority of supermarkets in recent years swap out confectionery from checkouts and prime spots for alternative products. One 2018 study found the changes were effective, cutting sales on confectionery by a fifth.
The new restrictions look set to take this several steps further. From April 2022, products that fall under the scope of HFSS will be banned from store entrances, aisle ends and checkouts. There'll also be a ban on price promotions linked to volume – that is, any deal that encourages shoppers to pick up more of an item.
It's thought it will still be the possible to run single price promotions, other on-pack promotions such as competitions or giveaways, and also promote products within the aisle.
That will likely be less effective than gondola ends at encouraging impulse sales, says Jeremy Stern, of Promo Veritas. But in-aisle displays could still encourage incremental purchases where confectionery is positioned near other categories, such as tea and coffee.
These exceptions will do little to mitigate what is expected to be a major blow to confectionery, predicts IRI. It estimates there will be 26% more available space in UK supermarkets when the new regulations come into force. Currently, HFSS categories make up 38% of actual store space. This will drop to just 12% when the restrictions are introduced, a fall of more than two thirds.
Chocolate will be most impacted, IRI predicts, with about 14% of sales lost as a result of its reliance on incremental sales from being on display and from volume promotions. Sugar confectionery is estimated to lose around 5%.
It's an upside for other types of products, suggests IRI HFSS strategic consultant Joe Harriman. "With the ban on in-store promotional activity and display for HFSS products, this is a real opportunity for brands that have no in-category competition or that offer healthier alternatives as retailers look to rethink their ranges," he says.
Online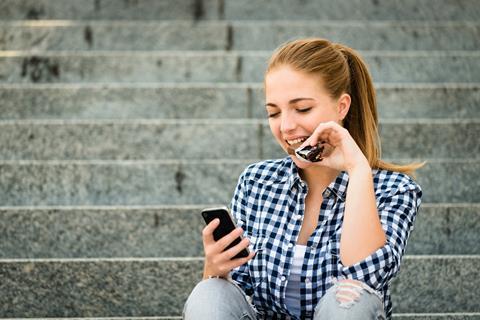 The wide reach of paid-for online advertising means it is now a major element of confectionery marketing strategies
Appearing across display ads, sponsored search, social media and video on demand, the wide reach of paid-for online advertising means it is now a major element of confectionery marketing strategies. In fact, online ad spend by UK food and drink brands increased by 450% from 2010 to 2017, according to government data.
"Online advertising is currently a very powerful tool for us, and not just in reaching consumers at the point of purchase through e-commerce sites," says Ferrero customer development director Levi Boorer. "Online placements allow brands to engage with consumers in more ways."
But this looks set to be subject to the most sweeping changes when restrictions come into force. Display ads, sponsored search, social media and online partnerships or collaborations will all be banned for HFSS confectionery products should proposals go ahead.
There will be only three main exceptions. The first is via non paid-for online advertising. That is, via a brand's own website or social media. The second is ads in audio-only media, such as podcasts and music streaming. And the third exception is media that supports online transactions, such as on a retailer's website.
This represents a major extension to existing restrictions. Currently HFSS product ads are not allowed on websites or online platforms aimed at children or where under-16s make up more than 25% of the audience.
The new plans have been labelled "draconian" by online advertising bodies IAB UK, ISBA and IPA. In a joint statement, they claimed the changes were "a disproportionate and inequitable response to the sought policy outcome – to reduce children's exposure to HFSS online advertising – built on an evidence base that is incomplete and flawed". The financial costs would outweigh benefits by a factor of 308, they added, equating to a net cost of around £8.3bn.
The impact for confectionery could be profound. Digital advertising generates a greater sales uplift per household reached than any other channels, Kantar data shows. Though it may reach only 15% of households, for example, it can return a spend of £91.33 per 1,000 of these.
Brands will have to think long and hard about their response.
New HFSS rules: dos & don'ts for confectioners
Not allowed
TV ads featuring HFSS confectionery between 6am and 9pm.
Advertising HFSS confectionery online. This includes paid-for display advertising online, paid-for online video advertising, paid for social media advertising, and paid-for search listings such as sponsored links on search engines.
Using influencer partnerships and sponsorships to advertise HFSS products.
Volumes promotions on HFSS products in stores – such as multibuys.
Promoting HFSS products at gondola ends, checkouts, store entrances and 'online equivalents'.
Allowed
TV and online ads promoting a brand rather than a product. For example, Mars will be allowed to run a push that promotes the brand and company, as long as there is no mention of its chocolate bars.
Advertising HFSS products through audio media, such as podcasts and radio.
Promoting products using OOH media such as billboards. However, current restrictions will continue to apply.
Marketing HFSS products via a brand's own social media channels and branded websites. That is, non paid-for online advertising.
Running single price promotions in stores, excluding a discount of 20% on a product.
Possible exemptions
It's expected that some brands and retailers will be exempt from all restrictions.
Restrictions will not apply to confectionery brands with 250 employees or fewer.
In-store promotions will not be restricted in retailers with fewer than 50 workers.
TV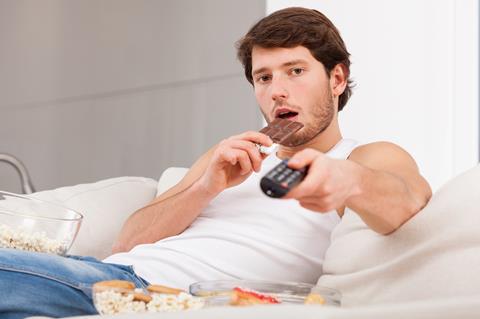 Although the expected changes in 2022 will mark a step up in restrictions on marketing HFSS goods, TV ads have already been subject to controls for more than a decade.
In November 2006, Ofcom announced a ban on HFSS ads aired during or around kids TV shows and programmes with a "disproportionately high child audience". By 2010, there had been a 37% decline in HFSS TV ads seen by children as a result.
Critics say current restrictions don't go far enough. For instance, broadcasters can continue to air HFSS ads during 'family viewing time' (6pm-9pm). Analysis by Cancer Research UK shows that almost half (47.6%) of all food ads on commercial TV in September 2019 were for HFSS products. That proportion grew to 60% during the 6pm-9pm slot, when it is thought the number of child viewers peaks.
That TV continues to take up the lion's share of ad budgets seems to bear this out, with confectionery and snack brands spending more than three times as much on TV marketing in the first half of 2021 than on online ads, according to NielsenIQ.
Yet this dependence is starting to lessen, believes Jovan Buac of 'brand transformation' business Landor & Fitch. After all, "most young people now watch streaming services and, while it is still important, brands no longer rely solely on TV advertising" he says.
But there's little doubt the new restrictions, banning all TV ads for HFSS products from 6am to 9pm, will be a significant blow to major confectionery brands. "Big companies spend hundreds of millions above the line, with TV the biggest area that'll be hit," warns Ben Greensmith, of Tony's Chocolonely. "I think it poses a massive challenge for the traditional big chocolate brands."
One way confectionery makers may look to navigate this near-blanket ban on TV ads is by taking advantage of one of the proposed exemptions: brand or corporate advertising will still be permitted, as long as the HFSS product itself doesn't appear.
This could see brand owners, such as Nestlé and Mondelez, focus TV ads on raising the profile of the business, with a focus on CSR initiatives, brand values or simply creative concepts that get stuck in a viewer's head without a product or sell in sight.
The end of big bang marketing? Confectionery category report 2021
1

2

3

4

5

6

Currently reading

Restrictions on confectionery advertising in-store, online and on TV explained

7

8