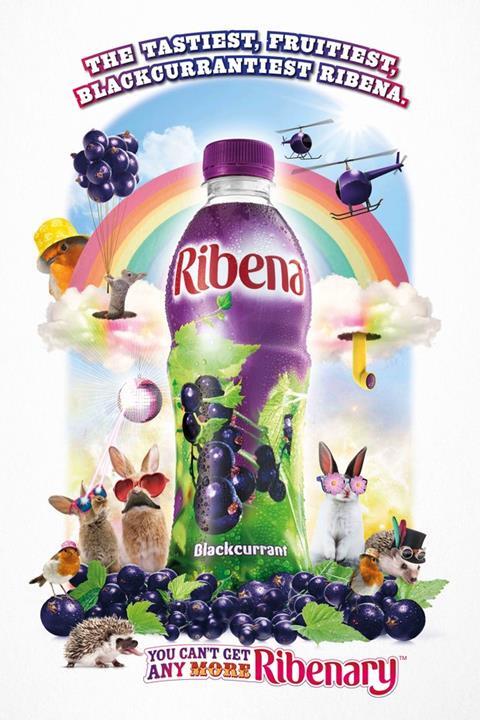 Ribena is aiming to inject some fun into its brand in an effort to speak to 16-34 year old consumers, its marketing director has said.
A new campaign for the drink will introduce the slogan 'You can't get any more Ribenary', which Hannah Norbury said been devised after consumers continually used the word 'Ribenary' to describe the distinctive flavour of the drink. The push will mark a move away from the health-driven messaging used by the brand in the past.
A new 30 second advert, focusing on the brand's ready to drink range, will show on TV and VOD for eight weeks from August, and also be screened in cinemas, which Norbury said would expand Ribena's reach beyond its traditional audience of mums.
"We wanted to focus on our ready-to-drink range because that's absolutely storming for us at the moment," said Norbury. "50% of the category growth on drink-now juice drinks has been driven by Ribena – that's something we want to make sure we continue to drive." [Nielsen 52 w/e 23 May 2015]
"Historically we've tended to focus more on the health messaging with Ribena," she continued. However, "taste is the number one driver of the category, and we do have this really distinctive taste of Ribena and this is about us celebrating that."
The video ad is part of a £6m multi-channel push which also includes outdoor, bus side ads, a variety of in-store options, and weekly competitions through social media. In September, the brand will kick off a tour of the UK featuring the 'Ribenary Crazy Golf Course', along with sampling.
Norbury said the campaign provided "a real opportunity to reinvigorate categories like squash and lunchbox, which overall are declining categories."
Ribena's ready to drink range was up 2% last year to £121.9m [IRI 52 w/e 31 January 2015].