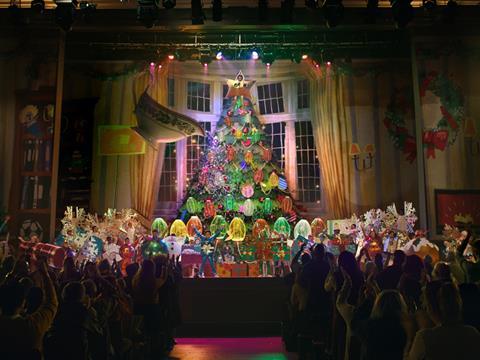 Sainsbury's has launched its Christmas TV and social media campaign, encouraging customers to put everything into Christmas for their loved ones.

The two-minute advert featuring children performing a Christmas show for their friends and family will premiere during Coronation Street on ITV tonight (12 November), while a minute and a half version has already been posted on the supermarket's social media channels.

Sainsbury's head of broadcast marketing, Laura Boothby, said the retailer was "not worried about any comparisons at all with a recent John Lewis ad. Both ads centre around school plays with children in eccentric costumes singing a classic rock song. "When John Lewis launched their ad they set a standard. I wasn't worried - it was still the right thing for us," said Boothby.

She added: "We started work in January, and the thing we were really inspired by is that every school up and down the country is doing a nativity play, and that's really what this is about."

Sainsbury's ad, the Big Night, has the tagline 'we give all we've got for the ones we love' and is directed by Michael Gracey, director of the film The Greatest Showman. Its storyline follows a young girl dressed as a star nervously stepping on stage to sing. After a nod of encouragement from her mother, she performs a rendition of New Radicals' track You Get What You Give.
She is supported by other children during the performance, who are dressed as traditional Christmas objects and foods, including a turkey, bauble and a string of lights. The theatrical advert features almost 60 children and captures genuine reactions from the audience, as the majority of the cast's parents are featured watching the performance for the first time.

Sainsbury's is striving to connect with what many families experience during the festive time of year, including Christmas plays and get-togethers with loved ones.
The ad was created by Wieden + Kennedy and the track by eight-year-old Tia Isaac, who plays the star, will be available on Spotify from Monday. Sainsbury's is also stocking a version of the star costume in stores and online in one size for children (rsp: £8).

The TV advert forms part of the supermarket's Christmas campaign across radio, print, digital and in-store marketing, with encouraging loved ones to inspire each other at Christmas at the heart.

"We have set out to create an advert that captures the passion, emotion and excitement of the festive season, in a familiar setting for all of us," said Boothby. "Customers tell us that what matters most to them at Christmas is spending time together with family and friends and making it truly special for them, and the school show makes the perfect setting to bring our Christmas message to life. We've created a real piece of festive joy."