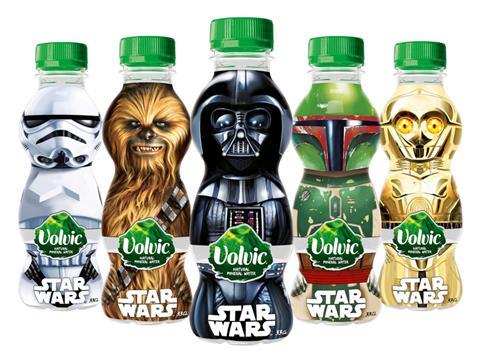 Danone is hoping the launch of limited-edition Volvic mineral water bottles will make a splash with Star Wars fans.
It has revealed five designs that will roll out to stores from 1 December, ahead of the release of upcoming Star Wars sequel The Force Awakens on 17 December. The line-up comprises Chewbacca, a Stormtrooper, Darth Vader, C-3PO and Boba Fett (all rsp: 99p/330ml), and the launch marks the first time the brand has sold character-themed bottles in the UK.
Volvic - Britain's biggest bottled water brand - is backing the roll-out with 'life size' bottle stands featuring Star Wars characters and a range of Star Wars display units in more than 2,000 stores.
The supplier said it hoped the activity would make drinking water more fun for families, a view echoed by Star Wars owner Disney.
"We know parents can find it a challenge to ensure their children are getting enough water each day," said Marianthi O'Dwyer, Disney vice president of fmcg licensed sales. "Children often pick food and drink with their favourite characters on, so these Volvic Star Wars bottles offer parents a fun and simple option."
Sales of Volvic are up 6% year on year to £171.6m [Nielsen 52w/e 26 September 2015], slightly behind the 9.4% increase in the overall market. Disney earlier this month announced it would be working with brands including Volvic, Duracell and Max Factor in the run-up to The Force Awakens.