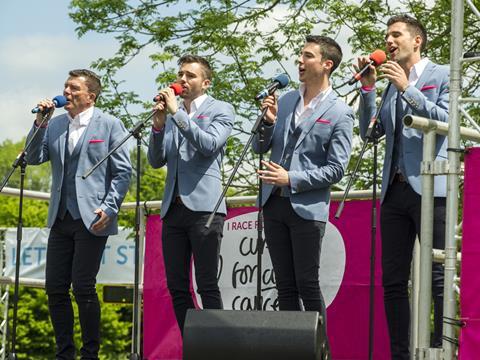 Tesco is backing Britain's Got Talent stars The Neales in a bid to get their new single to number one for Father's Day.

The band includes youngest member Phil Neale, a Tesco brand manager, who co-wrote the single 'I'll Be There' with his two brothers and father, Laurie.

The foursome reached the final of Britain's Got Talent last year after famously moving Simon Cowell to tears with their story of Laurie's brush with death from a heart attack.

The single will be on sale exclusively at checkouts in more than 750 Tesco stores from 10 June, priced at £1, with the hope of enough being sold for it to be a number one by Father's Day on 19 June. It will also be available for download, while a specially designed CD case will let buyers personalise it for their dads.

All proceeds will go to Tesco's National Charity Partnership with Diabetes UK and the British Heart Foundation, which is aiming to raise £30m in three years.

Michelle McEttrick, Tesco group brand director, said the company was thrilled to be backing The Neales.

"It's another incredible example of the lengths our colleagues up and down the country will go to in support of local causes and the National Charity Partnership."

Phil Neale, a brand manager with the Tesco's marketing team in Welwyn Garden City, said the single's title referred to a promise to a loved one to always be there, no matter what.

"We know we're still music chart underdogs, but harnessing the power of 300,000 Tesco colleagues gives this song a real chance of getting to number one, and raising a huge amount of money for the National Charity Partnership - funding crucial work to prevent heart disease and diabetes right across the UK.

"Having nearly lost our own dad and band member 10 years ago to a heart attack, we feel very lucky and proud to be in a position to raise money for and awareness of two illnesses that affect millions of dads across the country."

The Neales will go on a tour of selected Tesco stores during the first weekend of the song's release, leading up to Father's Day on 19 June.

The National Charity Partnership between Tesco, Diabetes UK and the British Heart Foundation aims to help prevent Type 2 diabetes and heart and circulatory disease.