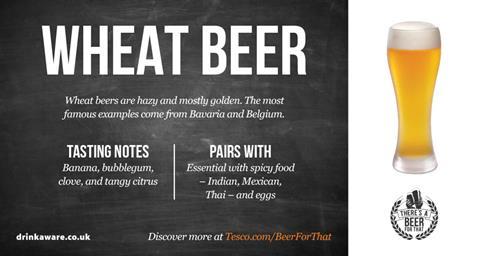 Brewing industry marketing campaign There's A Beer For That has partnered with Tesco to launch its first in-store activity.
From this week, the retailer will be carrying a range of POS material designed to educate shoppers about different styles of beer, their taste and food pairing recommendations. The push is being rolled out as part of Tesco's Spring Drinks Festival, which kicks off tomorrow (1 April), and will include activity on the retailer's website, mobile messaging and on the There's A Beer for That social and digital platforms.
There's A Beer For That is organised by Britain's Beer Alliance, a group including brewers and trade bodies. Originally launched in 2013 as Let There Be Beer, the initiative was relaunched last October following the appointment of former Guinness marketing chief David Cunningham as programme director.
"The idea with this activity is to encourage Tesco customers to discover their perfect beer by introducing them to different styles and the food they perfectly pair with," said Cunningham. "The wine industry wine has done very well at giving people just enough information to feel confident and to want to discover more. And that was what we are trying to do."
The POS covers five beer styles – lager, dark ale, pale ale, stout and wheat beer – while other styles are covered on the campaign website. Britain's Beer Alliance has worked with beer experts and sommeliers to produce the tasting notes and food-matching suggestions.
Cunningham said initial in-store activity has been run with Tesco as the retailer was keen to take a different approach to the beer category, and because of its good understanding of customers. "With this activity we will test and learn and, based on that learning, can look to roll a programme out more widely in terms of other retailers, he added.
Tesco customer manager Natasha Pitman said beer had been experiencing a major renaissance. "We have seen an increase in demand for a wider variety of beer," she added.