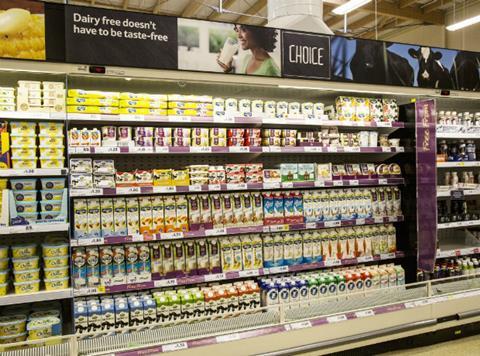 Tesco is set to roll out a new vegan logo across its own-label range.

The supermarket giant will start using the new logo to flag up products that are free from animal-derived ingredients "in the near future" with a full rollout due by 2019.

"We continue to be committed to serving all our shoppers a little better every day and our new Tesco vegan and vegetarian labels will help the growing number of customers looking to buy these products," said a Tesco spokesman. "We want to ensure that all our products that are suitable for vegans are labelled as vegan wherever possible, and the new labels will start to appear on products in the near future. We will take a phased approach to updating our products' labels with the aim to complete this process within the next two years."
The move was welcomed by Animal Aid's Mark It Vegan campaign, which has been calling on major supermarkets to introduce clear labelling on all vegan own-brand products.

Campaign Manager Ben Martin said: "This is fantastic news and another sign that big businesses are taking the needs of the UK's half a million vegans seriously. Tesco has already introduced a range of specialist egg- and dairy-free products in recent years, but this new measure will mean that vegans will be able to easily identify the many Tesco products that are animal-free by accident, rather than design.

"With veganism growing rapidly in the UK, this will make shopping much easier, especially for new vegans."

The move comes two months after Asda become the first UK supermarket to use The Vegan Society trademark on its products, beginning with Vegan Vodka. The Walmart giant has started putting the vegan trademark on 16 different items, which will appear on shelves this year.

Last week, The Grocer revealed Tesco had signed up with London-based technology company Spoon Guru to help vegan customers filter their online grocery food searches.

Searches will also cover food intolerances, such as lactose, gluten or nuts, and other dietary choices including vegetarian, low fat and low salt.