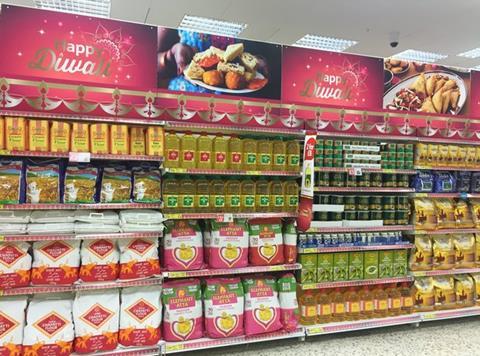 Tesco is marking the start of this week's Diwali festival with 240 stores taking part in special events.
The retailer said it was expecting Diwali sales this year be up to £19m, with key items like chapati flour, basmati rice and sunflower oil expected to see an average increase in sales of around 70%.
Stores taking part have launched balloon displays, have mithai sweets to try sourced from Neasden Temple in London, and colleagues have dressed in traditional attire.
Tesco has also donated £20,000 of products to 16 temples across the UK to help feed those in need during the festival. Large bags of lentils, basmati rice, sunflower oil and chapati flour have been included in the donations, which will be used for soup kitchens or to help local food banks.
Tesco will also be handing out free juices and crisps outside its Melton Express store today (Wednesday) to celebrate Diwali Day in Leicester City Centre. The event is the biggest Diwali celebration outside India, with over 35,000 people attending.
"Diwali is an important time in the calendar for many of our customers and colleagues, and culminates with friends and families gathering together around the dinner table for a large feast," said Tesco world food buyer Matt Clarke.