Sometimes you need to go that extra mile to get a bit of media attention. Brands have certainly risen to that challenge in 2019. From a helicopter dining experience to that controversial half-vegan burger, we sum up the most memorable PR stunts of the year
1. Alpro's entirely edible takeaway
To celebrate 'plant power day' in March, Alpro put a vegan twist on the traditional takeaway bucket. Everything was 100% plant-based, including the edible packaging, made from a "secret" combination of nuts, seeds and spices.
The bucket of mushroom nuggets, sweet potato fries and a creamy garlic dip was available in London and Manchester on 7 March only via Deliveroo Editions.
Self-proclaimed 'chief bucket taster' Stephanie Balsom-Eynon said the launch was to "show the nation what's possible using the amazing power of plants".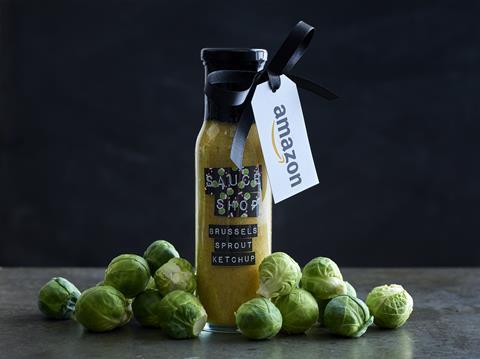 2. Amazon's brussels sprout ketchup
We've had brussels sprouts crisps, brussels sprouts tea and brussels sprouts gin (yes, really). So there was only one frontier left for the love-it-or-loathe-it veg: ketchup.
Amazon rose to the challenge by teaming up with local partner Sauce Shop to launch the world's first Brussels Sprout Ketchup this festive season.
The aim was to "shine a light" on one of the many small businesses that Amazon supports, and "remind people that Amazon is a place to do your Christmas food shop".
The concept may sound a little off-putting, but it seems to be tickling consumer tastebuds. The ketchup has repeatedly sold out online since becoming available at the end of November.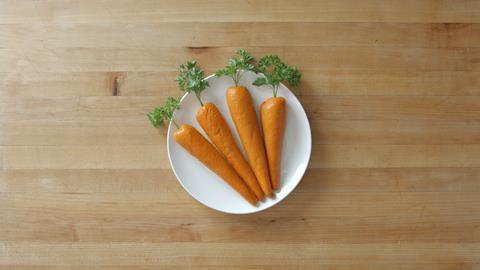 3. Arby's 'marrots'
We've had veg shaped into steaks and burgers. But what about the people who want their meat shaped into veg?
US fast food chain Arby's answered the question no one asked with these 'marrots' – in essence, meat shaped to look like carrots.
The 'megetables' are apparently not a PR stunt. So how come they're not going on sale?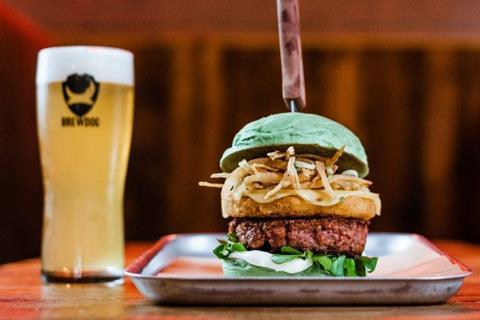 4. BrewDog's meat and vegan burger
You can always rely on BrewDog to whip up controversy. It didn't disappoint this year with the launch of a half meat, half vegan burger in October.
BrewDog claimed the 'hybrid burger' was to highlight the environmental and health benefits of moving towards a more plant-based diet, in a way that would "suit everyone's tastes". "We've seen a growing demand for alternative proteins, and we already stock vegan-friendly options in all of our bars," the brand tweeted. "But we wanted to do something for flexitarians – people looking to cut down but not totally stop eating meat."
The burger seemed to cater for everyone, yet please no one. It was met with confusion and even anger on social media, as Brits questioned the point of pairing meat with vegan cheese. Arguably, the point was simply to generate a bit of publicity. On that front, it was certainly a success.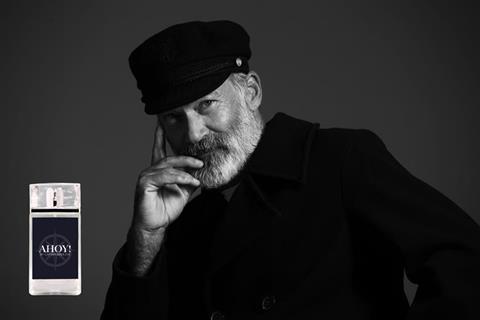 5. Captain Birdseye's eau de toilette
Someone who spends their life on a fishing trawler doesn't sound like ideal inspiration for a perfume. Still, that didn't stop Birds Eye from releasing 'Ahoy by Captain Birds Eye' – a limited edition eau de toilette fronted by its "rugged" new-look captain. The brand gave away 50 of the limited edition bottles on its Facebook page.
"We know the British public have a soft spot for our captain," said Birds Eye spokeswoman Annalisa Fanali. "So, this Christmas, we wanted to treat fans to something special from our iconic captain, by creating his own signature scent. After all, who doesn't love the fresh aroma of the ocean?"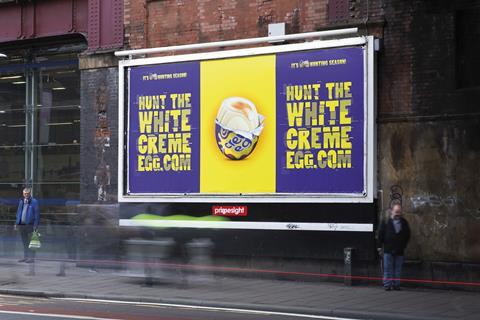 6. Cadbury's white Creme Egg
The coveted white Creme Egg made a comeback in January.
White eggs were hidden among stocks of regular Creme Eggs to generate a bit of buzz. And there was more than a sweeter taste up for grabs finders could claim cash prizes of up to £10,000.
The initiative reached 88% of UK adults at least five times [Carat, CCS Insight]. The white eggs were found 760,881 times, according to Elvis, the creative agency behind the project.
It seems to have benefited the brand. Sales of Creme Eggs increased by 9.9% over the period, according to Nielsen. Insert your own 'egg-static' or 'egg-cellent' joke here.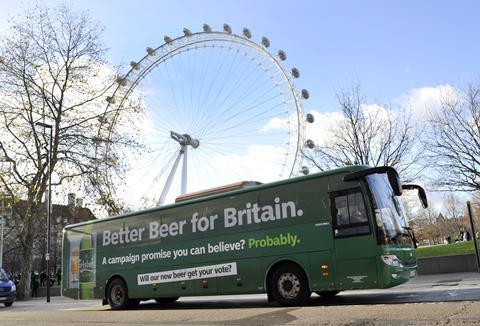 7. Carlsberg's Battle Bus
Admitting your lager is "probably NOT the best beer in the world" is a bold move. But that was all part of Carlsberg's campaign to promote its new Danish pilsner, which received a politically themed boost this year.
During election week in December, it took a green bus (suspiciously similar to the Brexit bus) around London, offering people a free sample of its reformulated lager.
"In times of uncertainty, the British public need an election pledge they can believe in," said Sam Johnson (no relation to Boris), brand manager for Carlsberg Pilsner. "Our campaign promise of 'Better beer for Britain' through our new Danish Pilsner is definitely something the public can get behind."
Well, free beer is certainly one way of getting a better voter turnout.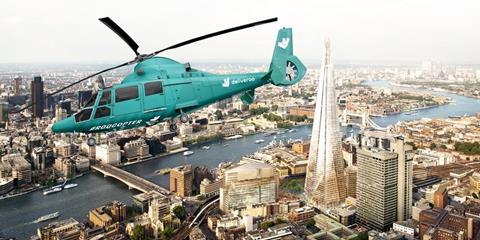 8. Deliveroo's 'Roocopter One'
Sometimes there's just something missing from your takeaway. You wish you'd ordered that extra side, had the same thing as your partner, or just had it in a helicopter. Wait, what?
Arguably, there are few people out there who want a helicopter ride at the same time as their tikka masala. But for those who enjoy their meals best at 1,000 feet, Deliveroo trialled a 20-minute helicopter dining experience, which took off from Battersea throughout August.
Deliveroo insisted the 'Roocopter' was not just a PR stunt, but a "sincere attempt to probe what new services it can offer customers in its quest to become the definitive food company". Still, something tells us that helicopter dining won't take off.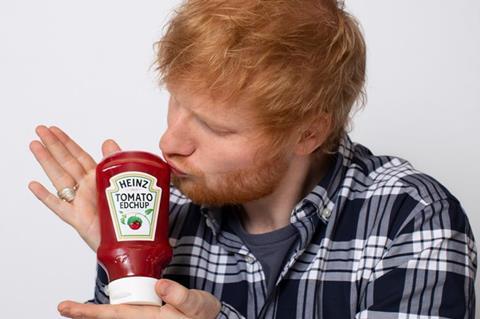 9. Heinz's 'Ed-chup'
Ed Sheeran is no stranger to a love song. What's missing from his repertoire is an ode to ketchup.
Because arguably, tomato sauce is the real love of his life. He loves it so much that he apparently takes it on tour with him, and even has a tattoo of the brand. Curiously enough, his wife doesn't seem to feature amid his tattoo collection.
In June, this strange story of unrequited love took a more positive turn. Heinz showed its appreciation for the singer with a limited-edition version of its bottle named 'Edchup' (what else?).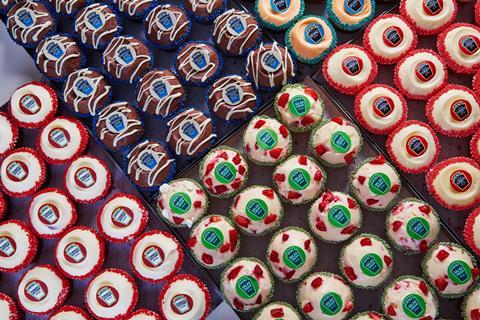 10. Heinz's sauce cakes
Here's another entry for Heinz. To mark its 150th birthday, the brand teamed up with The Hummingbird Bakery to create a selection of special cupcakes depicting its most famous brands.
But this wasn't simply a decorative collaboration. To truly put the Heinz stamp on proceedings, the bakery had to use the products in the cake mixes. Apparently, tomato ketchup red velvet cake is a thing and the sauce 'adds sweetness to the mix'. Ed Sheeran would surely approve.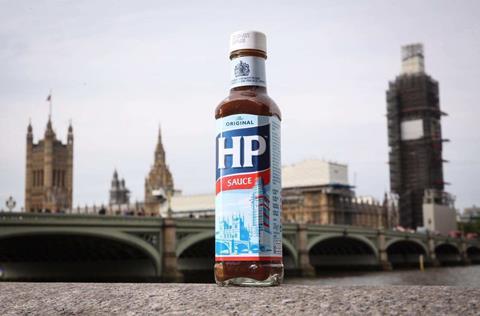 11. HP's scaffolding bottle
You can't accuse HP of painting an overly rosy picture of London. This year, it updated the imagery on its 255g bottle to show how Big Ben's tower really looks, complete with scaffolding. Cue plenty of media coverage of the changes. The label will remain this way until the scaffolding is removed from the tower in 2021.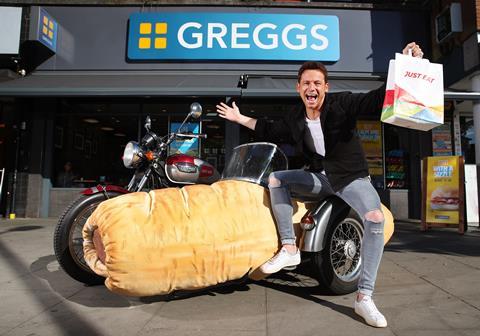 12. Just Eat's sausage roll sidecar
Look everyone! It's a sausage roll sidecar with Joe Swash jumping out of it. Why is Joe Swash there? We have no idea. Presumably he just really likes sausage rolls.
But there is some logic behind the sidecar. It was developed to celebrate Just Eat's partnership with Greggs. The bespoke Triumph Bonneville was apparently inspired by the push-bike that founder John Gregg used to deliver his baked goods in the 1930s.
A team of designers took two weeks to customise the vehicle, apparently. So Joe had better mind the paintwork if he wants to maintain his standing in the sausage roll world.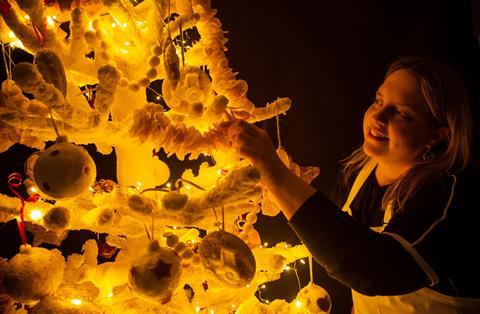 13. Kettle's Christmas tree
What's better than a Christmas tree? A Christmas tree made of crisps, obvs.
So that's exactly what Kettle Chips created for the launch of its new Mature Cheddar & Red Onion seasoning.
The seven-foot 'Crisp-mas' tree was decorated with 100 handmade decorations including 45 cheese baubles, 40 onions, 7 large crisp stars and 10 strings of tinsel made from Kettle Chips. It took pride of place at Kettle Chips' long-term charity partner, The Feed (a Norfolk-based café which supports the local community).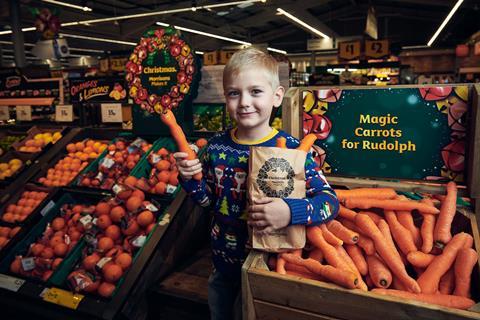 14. Morrisons's carrots for Rudolph
Rudolph isn't fussy about the shape of carrots, and neither should you be.
That's the message Morrisons is pushing in the run-up to Christmas, as it gives away 125,000 paper bags of wonky carrots (labelled 'Carrots for Rudolph').
"We want to make it easy for our customers to enjoy these magical Christmas traditions," said Andy Todd, carrot buyer at Morrisons. "At the same time, we want to highlight that wonky carrots are just as tasty as perfect-looking carrots – to support our farmers."
Take that Kevin.
15. New York Bakery Co's Bagelizza
Bagels, good. Pizza, good. So a giant bagel pizza must be even better, right?
That was the idea behind New York Bakery Co's 'bagelizza', which made its debut in February. It teamed up with Mulberry Street Pizza to create the 12-inch monster bagel, which can serve up to eight people and weighs in at 1.5kg (making it 16 times heavier than an average bagel).
The bagelizza was available to buy at the pizzeria or on Deliveroo on 9 February. That coincided with National Pizza Day and National Bagel Day, which are conveniently celebrated at the same time.
To celebrate the launch of our NEW 'The Bee Sting' pizza, we've created the world's FIRST 'beezza' (pizza for bees) 🍯

Made with real Papa John's dough, wild flowers and a sprinkle of pollen, the tiny treat has been made to support the work of the @BumblebeeTrust 💐

Cute! 😍 pic.twitter.com/kaNUssJm0I

— Papa John's UK (@PapaJohnsUK) July 17, 2019
16. Papa John's pizza for bees
What do you get when you cross bees with a pizza? A Beezza, that's what!
Don't worry, this Papa Johns pizza doesn't actually contain bees. It's actually a tiny pizza drizzled in honey, which forms part of the pizza brand's quest to highlight the plight of bees.
Available for a limited time in July, the beezza was topped with wild flowers including forget-me-nots and rose geraniums, and sprinkled with a mix of local pollen, rosemary and thyme. "According to experts, all of these are favourites with bees, thanks to the fragrances, colours and easy-to-access nectar," said Papa Johns UK marketing director Giles Codd. "These are the types of flowers we should be keeping in our back gardens." Or you could just put the pizza out back instead.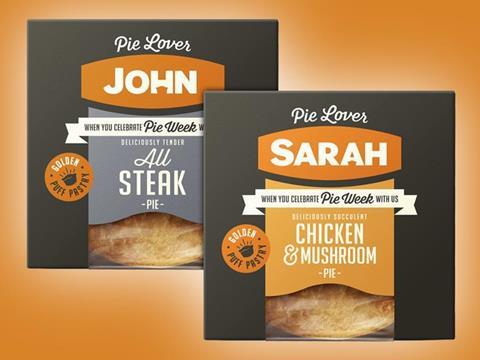 16. Pukka's named pies
Don't leave John or Sarah alone in a room with a pie. Because according to Pukka, they are among the top 10 names of Brits most likely to succumb to the temptation of savoury pastry (David, Paul, Michael, Alan, Lisa, Claire, Emma and Gemma are also on the pie watchlist).
Unsurprisingly, Pukka didn't share the methodology behind its research. But it made a nice PR stunt for British Pie Week in March, when Pukka 'pie-sonalised' its All Steak and Chicken & Mushroom pies with said names.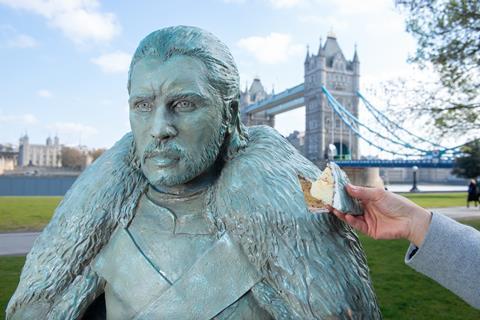 17. Stork's Game of Thrones cake
What better way to mark the ending of a cult TV series than with cake?
That's what margarine brand Stork did this year, as it became one of many to capitalise on the finale of Game of Thrones. It commissioned food artist Michelle Wibowo to craft life-size cake sculptures of three characters, which each took 300 hours to make and took pride of place beside London's Tower Bridge. We're hoping the taste was fittlingly bittersweet.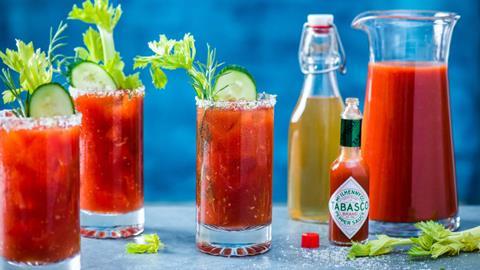 18. Tabasco's 'Pick-Me-Up' café
Tabasco opened its 'Pick-Me-Up Café' for the fourth year running on 14 December.
From midday until stocks lasted, consumers in south west London were able to order a choice of Tabasco-infused cocktails on Deliveroo. Customers could opt for a Bloody Mary with vodka, a Red Snapper with gin, a Michelada with lager or a Virgin Mary with Seedlip Spice 94.
Or, for those who are really suffering, a mix of all four.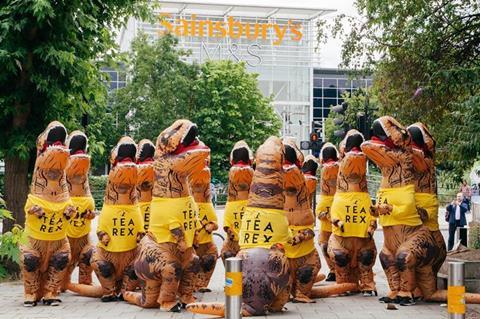 19. Tea Rex's T-rexes
Nothing commands like attention quite like a T-Rex. Which proved handy for the prehistorially named tea infusions startup Tea Rex. It marked its Sainsbury's debut in July by sending a herd (or 'terror') of inflatable T-Rexes to the retailer's Merton superstore.
The horde, led by founder Andrew Walker, invaded the store without warning because the retailer "probably wouldn't have approved if we'd asked".
An Instagram video of the siege has since racked up more than 34k views on Tea Rex's account. Clearly, tea and dinosaurs are a winning combo.
20. Amazon's help for the high street
Wasn't it kind of Amazon to help the high street with the launch of 10 temporary stores in sites across the UK? The idea behind its 'clicks and mortar' strategy was to give some of the third-party startups on its site a taste of life on the high street, but as The Grocer reported, the startups quickly learnt just how tough it is.
The stores housed 10 pop-up retailers for a two-week residency. However, though the pop-ups were sheltered from business rates and had to pay rents of just £150 per week for the high-profile position in cities and town centres, some failed to even make it through the two weeks.
Emma Jones, founder of Enterprise Nation, which ran the pop-ups on behalf of Amazon, admitted far more thought had to go into how online business models could work together with a high street presence. In the latest iteration of the trial, online retailers no longer have to be present and can simply be part of a curated collective of suppliers.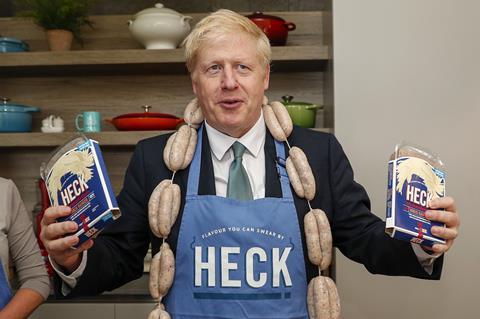 21. Heck's Boris photo-op
And finally another PR stunt that badly backfired. Sausage brand Heck faced a Twitter backlash when it invited Boris Johnson for a shoot at its Yorkshire food factory. While canvassing for support in his bid to become the Conservative Party leader, he posed complete with specially developed packs of 'Boris bangers'.
Many fans of the brand swore they would boycott Heck over its apparent support for the architect of Brexit – pointing out that eight of every 10 Heck staff were European. Buzz reached such levels that Heck co-founder Andrew Keeble released a statement insisting the brand had "no political affiliation", and invited "all members of all parties" to visit the factory.
Heck indeed.