Whether you're giving them 'hardwired insight' or offering 'surprise and delight,' shopper marketing has become an essential tool for both brands and retailers. So how has it changed? And what's next?
If you fancy a debate, ask those in the know about shopper marketing. From how to define it, to questioning when it truly began, the only issue everyone can agree on is how vital it is in 2014.
Searching for the perfect definition involves descending into semantic verbiage, though perhaps Deloitte nailed it when it called it the art of "capturing a shopper's heart, mind and wallet." However, shopper marketing has been around a lot longer than 1988, when a bright spark at P&G coined the phrase.
"This so-called new art form is actually almost a century old and is undoubtedly the foundation, and should still be, of advertising and marketing as we know it," says Craig Lodge, MD of shopper marketing agency The Integer Group in Africa. He believes shopper marketing arrived the day retail pioneer Clarence Saunders threw open the doors to America's first self-service grocery store, Piggly Wiggly, back in 1916, and introduced concepts including price-marked packs and innovative fixtures and fittings; all basic foundations of shopper marketing as practised today.
Perhaps more significantly, Piggly Wiggly was the first store to offer shoppers autonomy. Overnight, brands were forced to fight for the right to be picked up and dropped into a shopping basket (another newfangled first). But the discipline has come so far it's unrecognisable from its origins in 1916.
"It's not shopper marketing unless you can do it in-store. You absolutely have to engage retailers"
"It's not simply that we get to communicate in-store," says Rob Sellers, director of shopper marketing agency GreyShopper London, which has worked alongside P&G on its shopper marketing for 17 years. "Today, shopper marketing starts miles away from the store. It's about hardwiring shopper insight into your product. Before, it was 'we've designed the product, we've shot the ad, now can you guys put it on some PoS? But it's inherent now. If you are not factoring in shopper marketing you are behind the curve and if you don't have senior level input about shopper marketing then you are massively missing out. There is clear evidence shopper marketing works and delivers a great ROI, otherwise we wouldn't be seeing the growth and investment we are."
Surprise shoppers
So how does it work? "Surprise and delight," says Sunny Bhurji, head of trade marketing at AB InBev, who handles in-store activation across the major mults for Budweiser, Stella and Beck's. "We want to surprise shoppers and draw them out of the norm and then they hopefully go on to purchase. We have had some phenomenal success. The Stella Artois chalice giveaway was really well received by retailers because it offered added value. It's not just giving away a load of glasses. It gave shoppers a reason for purchase, added value and drove brand equity."
It also delivered a whopping 39% sales uplift for Stella. Yet it's not all about tempting giveaways or "big, impressive, exciting PoS," believes Sellers. "There is lots of subtlety to it as well, certain psychological cues to stop and hold people, the way you use light or colour to draw the eye of the shopper before they have even considered making a rational decision. If you were to rationally think about all those items you add to a trolley it would take hours to complete your shop. You'd go nuts."
That means helping shoppers "deselect" large portions of the category by playing on the subconscious with effective use of colour, tugging at the heartstrings (see McVitie's Sweeet box, above) or by using simple language so the benefits are clear. "'New', 'fastest,' 'strongest,' 'best-ever' – these are designed to help people make quick decisions," says Sellers.
A less subconscious example, but one that also gets inside the mind of the shopper, is from Heinz. Last winter, among other locations, it hung its concentrated soup pouches on clip strips next to cold remedies "because that is what people are looking for when they are under the weather."
Deep understanding
It's a good example of why a harmonious relationship between retailer and supplier is the bedrock of any successful shopper marketing campaign. "It's not shopper marketing unless you can do it in store," adds Sellers. "And the only people that can facilitate that are the retailers. So unless you have a deep understanding of what the retailers will let you do, or might let you do, you can't do it. You absolutely have to engage them."
For instance, a brainstorm session between P&G and Asda led to the creation of the P&G Children's Safe Drinking Water Program, which provides water purification technology to developing countries. Launched in March 2013, the campaign is promoted on P&G products throughout stores, but also plastered all over dump bins, gondola ends, and hanging from the rafters. "Sales and share both grew for Asda and P&G – that showed it worked for both of us," says P&G UK shopper marketing manager Samantha Corderoy.
Asda's senior manager for category planning, Phil Wilkinson, says it's "not often you get the opportunity to save lives and do something different for our customers. The joined-up approach led to fantastic execution in store with new PoS, a joint TV campaign and the creation of new marketing assets such as livery on grocery.com delivery vans. And in 2013 we beat our 12-month target in seven months."

Case study: Appletiser's online game
Shopper marketing used to be something that almost always took place in store. However, thanks to the growth of online shopping, smartphones and tablets, brands are increasingly reaching out to consumers via the internet.
This was the challenge that soft drinks brand Appletiser faced. It wanted to drive audience reappraisal via Ocado.com so it appointed shopper marketing agency Howell Penny to come up with a solution. "The shopper journey starts at the point where people identify a need to purchase something to fulfil a need," explains director Marc Rigby. "They might not know what brand they want or what retail channel they will use to purchase, but this is the moment when shopper marketing kicks into action. In reality, a shopper's path to purchase changes hugely depending on the shopping mission. Knowing the percentage of your shoppers who are 'dreamers' (wandering, gifts and treats), 'hunters' (deal chasers, weekly shop, stock-up), 'finders' (impulse, last minute, top up, emergency) or 'keepers' (loyalists) impacts the key touch-points you need to target."
For Appletiser, the strategy Howell Penny dreamed up to meet these missions was an 'engagement first – buy later' approach via a game, which launched in June this year. Built by Matmi, the game took the form of a classic-style fruit machine, with shoppers guaranteed to win a reward. Prizes up for grabs were: a 50p off voucher, a free 750ml bottle and the top prize of a Gourmet Society Card. The game was promoted via digital banners and an email to the retailer database; it was also shared and posted on social media to drive traffic to the site, engagement with the brand via game plays, and finally product sales.
Rigby says the game was "incredibly successful" at driving brand engagement, trial and ultimately sales.
Another responsive retailer is Tesco, which Sellers says is "opening up and listening to brands and thinking about what brands could do," though he concedes Tesco "needs stuff to fill" its large-format stores.
Tesco also excels at the use of big data. First embraced by the retailer in 1994, when it started trialling Clubcard to glean knowledge of what its customers were up to, the resulting data-driven insight is credited as one of the central tenets of its dizzying ascendancy.
Indeed, research revealed by IBM and Kantar Retail in July 2013 identified an "elite group of firms that are both consumer-oriented and strong at using analytics" that were "more successful than their rivals" when it came to selling product. IBM found this group used analytics more than their rivals and deployed more data sources, with 83% purchasing historical data and 78% using point-of-sale data. More than half used data from retailers' loyalty schemes and augmented it with "other forms of intelligence" like data offering "information on household purchasing patterns, consumer attitudes and media consumption."
Now, according to IBM smarter commerce retail consultant for Europe James Lovell, "more and more" are looking to get in on the act to boost the effectiveness of their shopper marketing campaigns. "This can only be achieved by collecting, analysing and using customer data from a number of sources that exist both inside an organisation, or out in the networks," he says. "The explosion of big data and how to harness it is one of retail's greatest challenges at the moment. Those retailers that are developing data strategies to improve their marketing effectiveness are really starting to see the benefits, not just in improved revenue and conversion, but also in improving customer lifetime value."
AB InBev agrees. "Retailers and brands have become more savvy and gained a greater understanding of the customer through Clubcard or Nectar data," says Bhurji. This, in turn, means shopper marketing "can be a lot more tailored. We are looking at the type of store, regionality, affluence."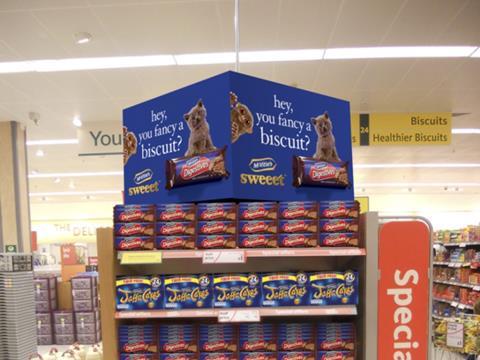 Case study: McVitie's Sweeeet
In February, United Biscuits splashed out on its biggest ever shopper marketing campaign to make people fall head over heels back in love with McVitie's biscuits.
The campaign, by GreyShopper London, was driven by the insight that biscuits are "utterly trivial yet immensely powerful," so it moved away from communicating what McVitie's Biscuits do to how they make us feel – the "unique, warm feeling and emotion of eating a biscuit." These moments and emotions were encapsulated by baby animals, each representing a key product in the McVitie's range.
The campaign was deployed across all channels, from main grocery to independent convenience, online to wholesale, and activated right across the path to purchase with 200 PoS elements across 20 retail accounts, 5,300 stores, 40 depots, 10,000 independents, six retail.coms, 12 trade websites, even on retailers' lorries.
The campaign was UB's biggest ever with Tesco – 400 stores and multiple touchpoints – and pioneered new in-store materials to drive category footfall, including a 3D gondola header, with googly-eyed tarsiers in Morrisons, branded units in Waitrose, retailtainment in Asda, aisle theatre in Sainsbury's, 3,000 Sweeet FSDUs in Booker Premier stores and tarsiers on the Nisa lorry fleet.
Nielsen figures showed the brands supported in the creative enjoyed double-digit growth during the campaign period. However, McVitie's saw growth of nearly 5% for all McVitie's brands combined during that time, and continue to be performing well on YTD figures, despite a sweet biscuit category that remains in decline.
The broader campaign also contributed to strong brand performance. With touchpoint awareness up to 35%, and brand awareness as high as 95% [TNS], the campaign had fantastic reach, with growth in the brand sentiment, and McVitie's 'Worth Paying More For' score almost doubling.
Red herring
Yet the idea that data is the answer to a brilliant piece of shopper marketing can also be a "massive red herring," according to Sellers. "We talk about a successful campaign relying on one data source, and that is sales," he says. "There is very little evidence it's worth the investment. There is a lot of talk, but you can get great insight based on talking to a group of mums. And that requires a lot less investment."
The other big technological advancement of recent years that plays right into a shopper marketer's hands is the omnipresence of smartphones. "The brands that innovate in this field will succeed in the battle for share of voice in-store as shopper marketing techniques become more detailed and continue to spread from the traditional, physical form to more virtual and technological mediums," says Wes Armstrong, head of shopper marketing at United Biscuits. "But the key to success, as ever, will be for suppliers and retailers to align their commercial agendas around their common ground: the shopper."
It's a sentiment echoed by Roisin Donnelly, brand director for P&G UK & Ireland. "Success derives from putting the shopper at the heart of the strategy and working from the store back. It demands a commitment to really, truly understand the shoppers we're trying to serve, then designing targeted programmes with the retailers for these clear shopper segments. This discipline, together with retailer partnerships, makes shopper marketing one of the most effective catalysts for value creation we have at our disposal."
That power for "value creation" is why shopper marketing is now so important. Given that brand and retailer have united in the appointment of Unilever's Dave Lewis to run the UK's biggest retailer, expect to see more of it coming to an aisle near you, soon.