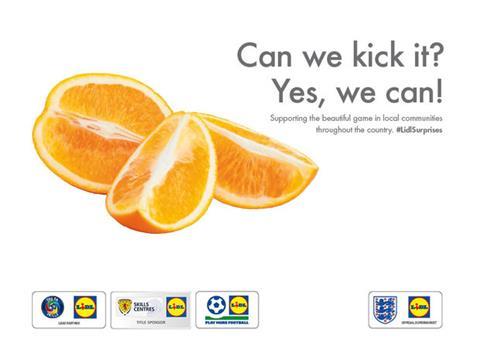 How times have changed. In the week it became officially the fastest-growing grocer for the first time, the FA this week announced that the successor to Tesco as sponsor of its grassroots football was Lidl (though the announcement was overshadowed by the tragic events in Paris, prompting the FA to postpone the press conference in favour of a simple press release).
The FA's new chief executive, Martin Glenn (ex PepsiCo, Birds Eye, United Biscuits), will know more than most how successful the German discounter has been at winning the hearts, minds and pay cheques of British consumers in recent years. And for added piquancy there's the fact the Germans are helping us Brits improve our football skills. But if we can have an American chocolate confectionery supplier and a Danish lager brand as FA sponsors (not to mention a Swedish or Italian manager) why not a German discounter?
Details of Lidl's activation programme will not be revealed till January but the sponsorship continues the Britification of the German discounters that has brought them so much success (and unlike Tesco's old deal, it covers Scotland and Wales too).
With Aldi meanwhile supporting the British athletics team, the temptation is to compare the value of the respective deals. Yet it's the manifestation of their Britishness that's more interesting. Aldi seems surprisingly prickly about its Germanic provenance, insisting it's a British supermarket, while Lidl appears more comfortable with its roots, as it acts local (it's also sponsoring Italian football's governing body). Perhaps Aldi is concerned about recent xenophobic campaigns by local retailers in Scandinavia. In any event Lidl's Christmas TV ad perfectly embodied its approach: featuring British humour and British traditions but throwing in the word 'Wunderbar'.
But Lidl's move doesn't just have credibility because of its increased Britishness. It will also link it to the FA through its health credentials. Lidl overindexes massively on fruit & veg. It has also pioneered healthy checkouts.
Rather than just a simple landgrab, this looks like it could be another clever marketing move.