This report is part of our three-part influencer series where we're diving beyond the polished surface of influencer marketing to look at some weird and wonderful new ways brands can connect with consumers. Other reports include a community who love to watch people eat and the world of "positive goosebumps" within ASMR.
Lil Miquela is a bona fide Instagram star. Shots of the 19-year-old Californian draped in couture at Palm Springs, lazing by the pool or hanging with supermodel Bella Hadid have earned the teen 1.6 million loyal followers on the platform. Like practically any top social media influencer you can think of, she is beautiful, with a bottomless bank account and a beachside view. It all makes perfect sense.
Until you find out that Lil Miquela is not real.
View this post on Instagram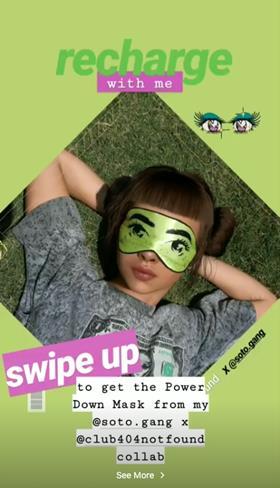 Instead the teen is one of an emerging group of digital or CGI influencers built to mimic the real thing. First appearing in 2016, these virtual constructs have ballooned in popularity since 2018 with followers enraptured by shots of Lil Miquela and 'friends' celebrating birthdays, lazing around in designer gear or even taking a trip to the supermarket.
Each eerily lifelike CGI influencer comes with their own complex fictional background, feuds included. Lil Miquela reportedly has an ongoing spat with Bermuda (137k followers). Not least as peppy, blonde Bermuda is a former Trump supporter (she's since changed her views). Then there's Bermuda's on-off boyfriend Blawko (136k followers).
All three are the creation of LA-based startup Brud and, until recently, the company and their trio of influencers have monopolised the digital influencer sphere. Now though, there's competition emerging from a swathe of ambitious rival startups. That includes the likes of London-based photographer Cameron-James Wilson and his creation Shudu (178k followers). Billed as the 'world's first digital supermodel', Shudu has already secured partnerships with the likes of luxury fashion house Balmain and Rihanna's Fenty Beauty.
Digital model Shudu's campaign for Balmain
SHUDU wearing designs from the #BALMAINPF18 collection. Discover more on https://t.co/uZ8nj05hc5#BALMAINPF18#BALMAINBBOXpic.twitter.com/eT9kXfSmcv

— Balmain (@Balmain) August 30, 2018
In fact, with these high-profile brand partnerships on the rise, coupled with a growing number of CGI stars to choose from, investors are increasingly confident these creations can do more than pique our curiosity. Brud alone reportedly raised $20m from top venture capitalists in 2018.
With huge followings and few constraints, it does seem like a channel with big potential for brands. So, could it work for fmcg? Food and drink is a regular feature on their accounts, after all, from Lil Miquela posing in a grocery aisle to sipping generic cans of soft drink or sharing tacos in the back of Blawko's truck.
Well, it's complicated. As TBH Marketing points out: "By virtue of not being human, virtual influencers are easier to work with and creative clashes are at a minimum. But by the same virtue, a virtual influencer can never have honest opinions or brand preferences."
The downside to working with CGI influencers
Their own survey of gen Z and millennial social media users demonstrated perfectly the potential – and potential pitfalls – of working with a CGI influencer.
On the one hand:
32% said they followed CGI influencers as a source of helpful advice
55% said they had made a purchase as a result of doing so
53% had followed a brand as a result
52% had researched a brand or product
On the other hand, 42% of gen Z or millennial users had followed a digital influencer without realising they weren't a real person.
That's a problem for any brand. Though "the legal and regulatory framework around CGI influencer marketing is fairly uncharted territory, I expect the basic legal principles that cover all advertising will continue to apply", says Duncan Reed, partner at UK law firm TLT. "Those principles say the advert must be legal, decent, honest and truthful and not mislead consumers." That means ensuring the 'average consumer' isn't convinced these artificial personas are real, and understands instead that "their views and thoughts are in fact someone else's behind the scenes".
In short "if brands want to tap this emerging type of social influencer, they need to find a balance between intrigue and transparency", adds TBH.
For brands selling food and drink, finding that balance is both more important and more challenging to strike. "CGI influencers are always going to struggle to promote anything like food or travel, because they can't actually experience it," says Thomas Walters, founder of Billion Dollar Boy. "So the authenticity of what they are saying is questioned."
"Brands need to find a balance between intrigue and transparency"
"This need for verification and authenticity is becoming ever more important to consumers. We recently did a focus group with a host of social media users about their thoughts on influencers, and they said they are more prepared to buy if the influencer reviews what they are promoting or, better still, uses it themselves. It's tricky for something that isn't real to fulfil that criteria."
It's arguably why, so far, the majority of brands that have taken the plunge tend to be limited to fashion and beauty – both sectors where aesthetics outweigh demand for authenticity.
In 2018 Lil Miquela took over Prada's Instagram, appeared in Vogue and was labelled a make-up muse by Pat McGrath. Californian footwear brand UGG also enlisted her help for their month-long 40th anniversary campaign, and in May 2019 Calvin Klein had the CGI model appear alongside real life supermodel Bella Hadid in a (controversial) 30-second ad that 'blurred the lines between truth and fiction'.
Then in June, Japanese cosmetics brand SK-II took the capabilities of the tech a step further with the announcement that it would be creating the brand's very own digital avatar. Working with AI company Soul Machines, the brand plans to launch YUMI, a dedicated brand influencer to give followers advice and guidance on skincare and products.
Activity among food and drink brands is currently more limited, with a couple of high-profile exceptions.
For starters, there's Coca Cola. In 2017 the brand announced its sponsorship of virtual footballer Alex Hunter, a fictional player in EA Sports' Fifa game. Hunter was even made a brand ambassador for Coca Cola Zero Sugar as the brand looked to crack the video gaming market.
Coca Cola's ad campaign featuring fictional Fifa player Alex Hunter
At the time, experts said the inability of Hunter to sign autographs or appear in person was offset by the fact that "virtual stars are unlikely to be arrested for drink driving, to appear on the front page of tabloid newspapers after a late-night transgression, or to inadvertently tweet criticism of their opponents, teammates or even sponsors". When asked about the success of the partnership, though, a Coca Cola spokeswoman would only confirm it was "no longer ongoing".
More recently, KFC experimented with its own CGI influencer. In April the fast food giant unveiled a computer generated version of its iconic Colonel. Far from risking confusion, the brand made light of the latest marketing trend, poking fun at its unique brand of artificial aspiration – with the Colonel espousing vapid captions while sipping Dr. Pepper from a wine glass on a private jet.
Tongue in cheek or not, the campaign garnered huge attention for the brand. One post featuring the virtual Colonel attracted 164k likes on Instagram. It's proof that there is real impact to be had among this growing roster of virtual influence. Albeit a trend that food and brands need to embark upon with very real caution.