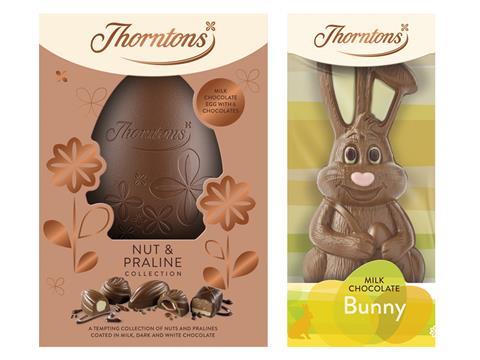 Ferrero has spruced up Thorntons' Easter offer, revamping its designs and launching an on-pack competition as part of a £7.9m spring push across the Italian confectioner's larger portfolio.

To better emphasise their premium positioning, packs of Thorntons' 14 Easter eggs and four moulded chocolate figures will have crisper illustrations and complementary pastel colours.

The makeover brings them in line with the rest of the brand's recently refreshed options. The new 'masterbrand' look had "proven to significantly improve purchase intent" said Ferrero.

The eggs - including the Adult, Collection and Dessert ranges - will be the centre of a wider Thorntons push from 1 January to 1 June, offering shoppers the chance to win hundreds of ­personalised gifts. Prizes include 1,000 chocolate speech ­bubbles with a personalised ­message, and three 'chocolate experiences' at the Thorntons factory in Derbyshire. The activity will be backed by a £2m spend across TV, digital and social media.

Ferrero also plans to invest £4.1m in support of its Kinder brand, which will include Kinder Egg Hunt kits for retailers to hold an in-store Easter egg hunt.

Kinder Surprise's pink and blue eggs are to receive a spring overhaul, partnering with two new licences, DC Super Friends and DC Superhero Girls. They will be pushed across TV, social and digital.

The final £1.8m of Ferrero's £7.9m budget will cover Raffaello and Ferrero Rocher, focusing on Valentine's Day and Mothers' Day.