What did Tesco do to make its messaging the most effective of the year?
So we are saying don't go to work, go to work. Don't take public transport. Go to work. Don't go to work. Stay indoors. If you can work from home, go to work. Don't go to work…"
So went comedian Matt Lucas' satire of Boris Johnson's often baffling lockdown guidance, in a video that's been viewed seven million times on Twitter alone. And, as the government struggled with its messaging, ministers tied themselves up in further knots arguing the ambiguity of the rules to save a certain chief adviser.
On one rule, at least, the government was clear. Grocery shopping was allowed. But beyond blanket orders to socially distance and wear a face covering, the government steered clear of the detail. How should people behave when in store? How could they keep safe?
Shoppers were desperate to know. And all supermarkets did their best to quell fears and fill the information void. So, whereas supermarket Christmas ads have invariably proved the most memorable creatives, in this year like no other, it is their commercials following the lockdown that have resonated most.
"All of sudden we're thrust into a scenario where every touch and movement could lead to a threat to our safety"
And topping the lot was the ad from Tesco, with an informative, instructional video more akin to a public service ad or in-flight safety video than a pushy supermarket commercial. 'Every little helps' took on a whole new meaning with the ad, which offered 'Some little helps for safer shopping'. And a YouGov BrandIndex survey, compiled exclusively for The Grocer, found the ad was the most effective advertising and communications campaign of the year.
Consumer psychology expert Will Morgan of research group Spark Emotions recalls how "activities like shopping went from being familiar and predictable, to unfamiliar and even threatening" at the time, with Spark's surveys early on in the pandemic finding a third of shoppers were scared by the risk of contracting coronavirus in store, while 24% felt "anxious or nervous" navigating the aisles.
"All of sudden we're thrust into a scenario where every touch and movement could lead to a threat to our safety, so we had to take a more conscious approach to shopping," says Morgan. "But we as humans don't like having to think about things for too long. As a result we see people struggling to follow basic one-way systems, and trying not to touch things. We then start to feel frustrated, and out of control."
That was something Tesco recognised. "We knew we had to help guide our customers and allay any fears or concerns," says Emma Botton, Tesco group marketing communications director. "With the unexpected speed and impact of Covid-19, so many things changed, which might have caused anxiety for our customers."
Instructional video
In the ad – filmed over one night at Tesco's Stevenage Extra store – colleagues clearly describe what shoppers should do from the moment of arrival at a store car park. It covers queueing, trolleys, one-way systems, social distancing and checkouts. The correct customer behaviour is acted out by staff.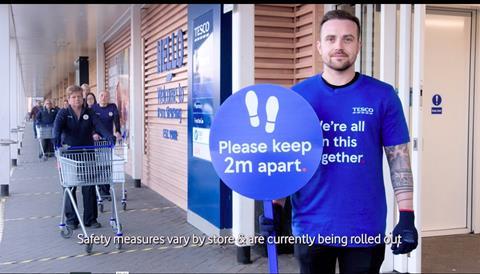 As Botton explains, it "demonstrates a real customer journey, from outside the store all the way through to the checkouts". "The style is factual, clear and informative but underpinned by our unique tone of voice – warm and always helpful. It was helpful from beginning to end, its tone completely aligned to the mood of customers at the time."
And, says Jemima Bird of brand agency Hello Finch (which works with Co-op), there was one crucial element that worked: "What I believe people engaged with was the real people, clearly explaining the message and reasons why in a clear, unambiguous way."
Tesco's approach was also in marked contrast with the approaches taken by its rivals. Sainsbury's shared guidance in animated form. Asda's CEO Roger Burnley fronted up a talking head format ad. Morrisons' ad featured staff and stock footage but relied solely on the voiceover. Tesco used real store staff to physically demonstrate the new rules, as Botton believed this would "resonate more".
Doing so was not without its challenges. Filming had to be done under strict social distancing guidelines. "Paramount to production was the safety of the crew and colleagues," Botton says. Here the supermarket's relationship with its long-standing advertising agency partner – BBH – was hugely beneficial.
The additional effort was worth it, Morgan says. "Crucially they modelled the behaviour they expected in store, helping shoppers visualise what was expected of them, making their message easier to recall. Ultimately we're much better at remembering people and actions than we are recalling words and numbers."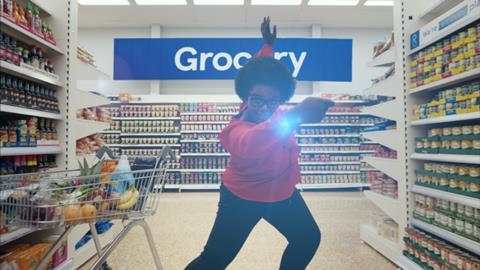 It's not the only ad this year that has achieved cut-through. YouGov BrandIndex data, which takes into account metrics such as ad awareness, positive sentiment and consideration of the brand, identified a number of memorable campaigns this year, from the post-lockdown return of McDonald's, to Just Eat's Snoop Dogg-endorsed takeaway service, and Amazon's online deliveries. And among brand owners, Cadbury's and Coca-Cola's calls for a societal reset coming after all their marketing activity was put on pause and Yorkshire Tea's showing of its human side on social media appear also to have captured the nation's mood.
It's one thing for an ad to have resonated in the crisis. It's another to be able to sustain it over a long period. That was a particular problem for retailers and their PSAs. Soon, the approach was out of date. The new way of shopping so deftly explained by Tesco & co became second nature to shoppers. "The need to be reassuring is still there" Morgan says, but "we're now much more familiar with what is expected of us behaviourally at a national level and from each retailer".
In response, last month Tesco respun the campaign – again with BBH – to better match the present mood. It was something Tesco had been closely tracking through "ongoing customer research and social listening" Botton explains.
"Data showed that, unlike in April and May when the Covid-19 guidelines were introduced and therefore were 'new news' to customers, the nation and our customers knew the rules," she says.
So its latest ad – which has again scored highly on YouGov BrandIndex's impact metrics – introduces new safety measures like traffic lights and reminds viewers of the existing 'helps'. But the safety video tone is gone, replaced by something more light-hearted.
"It was also important to differentiate for the second approach. The market context had moved on," Botton says. "We achieved this by maintaining the helpful messages and warmth in our tone of voice, but by adding some humour to reflect the genuine customer behaviours observed, for example, the 'in-store shuffle' to maintain two-metre social distancing," she adds.
"Care isn't an emotion that retailers get to associate with very often"
The update "cleverly reflects the little idiosyncrasies of Covid life" says Bird, "the last-minute putting on of your mask, dancing around each other so as to keep a social distance, checkout laughs that the eyes can see". Tesco comes across as "a little more human for it" she adds.
And "crucially" Botton says, it still shows "we understand and can help". Engendering trust at this stage is important. Trust in the government and its Covid advice has seriously waned during the course of the crisis. While three-quarters of people said the government was handling the pandemic well around the beginning of lockdown, this fell to four in 10 by June. It has not recovered since then, according to YouGov research. In contrast – helped no doubt by the way they have served, protected and informed the public – an increasing proportion of the population view supermarkets favourably (59%, up from 44% last year). Social research commissioned by the Food Standards Agency found people's trust in supermarkets had "strengthened" since the start of the pandemic.
All of these considerations have made it a "very different year in marketing" Botton admits. But by striking the right tone for the moment, informing and entertaining as appropriate, Tesco has only boosted its brand. "We believe we have done some of our very best and most effective work this year because our purpose and campaigns continue to be relevant," she adds.
And though its 'little helps' offered at the start of the pandemic are no longer as relevant, they are sure to help Tesco's image in the long term.
"By putting in the groundwork at the beginning of the pandemic, Tesco have helped themselves become seen as a retailer that cares more about their customers than just what they buy. Care isn't an emotion that retailers get to associate with very often," Morgan says, "Tesco took the opportunity".
The most effective campaigns of 2020
Impact score
Brand name
Category
Month of peak impact
48.7
Tesco
Supermarkets
April
2020
46.0
Marks & Spencer
High Street Retail
December
2019
45.7
McDonald's
Fast Food & Pubs
February
2020
44.7
Tesco
Supermarkets
December
2019
44.4
McDonald's
Fast Food & Pubs
August
2020
44.4
Marks & Spencer
Supermarkets
December
2019
43.6
John Lewis
High Street Retail
December
2019
41.8
McDonald's
Fast Food & Pubs
October
2020
40.2
Sainsbury's
Supermarkets
December
2019
39.7
Aldi
Supermarkets
December
2019
37.9
Coca-Cola
Carbonated Drinks
December
2019
37.6
Go Compare
Online services
October
2020
36.7
JUST EAT
Fast Food & Pubs
October
2020
35.0
Amazon
Online
December
2019
34.5
Sainsbury's
Supermarkets
April
2020
33.6
Aldi
Supermarkets
April
2020
33.4
Argos
General Retail
December
2019
32.7
Asda
Supermarkets
December
2019
32.6
Go Compare
Online services
February
2020
31.7
Lidl
Supermarkets
December
2019
31.7
comparethemarket.com
Online services
September
2020
31.3
Dyson
Domestic Appliances
May
2020
31.3
Amazon Echo
Consumer Electricals
December
2019
30.6
Amazon
Online
September
2020
30.5
webuyanycar.com
Online services
February
2020
30.3
Apple
Home Office & Computing
December
2019
29.6
Tesco
Supermarkets
October
2020
29.1
Asda
Supermarkets
October
2020
29.0
Aldi
Supermarkets
October
2020
28.7
Specsavers
High Street Retail
February
2020
28.6
KFC
Fast Food & Pubs
February
2020
28.1
Morrisons
Supermarkets
December
2019
27.1
Cadbury
Confectionery Masterbrands
May
2020
27.1
MoneySupermarket.com
Online services
August
2020
26.9
Iceland
Supermarkets
December
2019
26.2
Marks & Spencer
High Street Retail
September
2020
26.2
webuyanycar.com
Online services
July
2020
26.2
Morrisons
Supermarkets
May
2020
26.2
Argos
General Retail
January
2020
26.1
Currys
General Retail
December
2019
25.9
Aldi
Supermarkets
August
2020
25.8
Ring (Video Doorbell)
Consumer Electricals
October
2020
25.7
Yorkshire Tea
Dried Ambient Food
July
2020
25.5
Asda
Supermarkets
April
2020
25.4
Sainsbury's
Supermarkets
June
2020
25.4
Dyson
Domestic Appliances
August
2020
25.3
Yorkshire Tea
Dried Ambient Food
February
2020
25.3
Aldi
Supermarkets
February
2020
25.1
Marks & Spencer
High Street Retail
October
2020
25.0
Lidl
Supermarkets
May
2020
24.6
IKEA
General Retail
December
2019
Source/notes: Data here and in the following pages was provided by YouGov's BrandIndex brand tracker, based on surveys completed by a representative 4,000 people each day. The dataset considers advertising in selected categories from December 2019 to November 2020. The score is based on combined ad awareness, brand buzz and consumer consideration metrics.
Top Campaigns: the 50 best brand adverts of 2020
1

2

Currently reading

Top Campaigns 2020: how Tesco topped our table… with a safety video