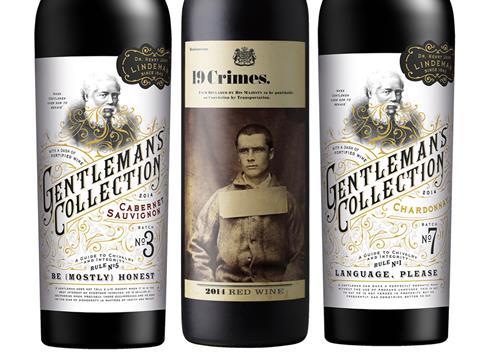 Treasury Wine Estates is aiming to woo 18 to 34-year-old male wine drinkers with new wine brand Gentleman's Collection.

The demographic represented a £76m opportunity for the category, said Shaun Heyes, business sector controller at TWE. This figure could be achieved if monthly wine consumption among men in the age group increased from 34.4% to 40.8% - the figure for 18 to 34-year-old women.

The range, which currently includes Cabernet Sauvignon and Chardonnay (rsp: £9.99) has rolled out to Bargain Booze and Wine Rack stores, and will appear in other retailers, including Costcutter, this month. TWE said it would be targeting multiple listings from next year.

Gentleman's Collection comes in a distinctive broad-necked bottle with a Victorian-inspired label featuring a batch number, a 'gentleman's rule' such as 'Ladies First' and 'Language, Please'. It also carries a portrait of Australian wine pioneer Dr Henry Lindeman, whose name appears on the bottle neck.
The experts' view
Marketing experts have given a mixed reaction to the new brands.
They have borrowed successful tactics from male-targeted dark spirits brands, said Matt Bennett, creative partner at ad agency Zak. 19 Crimes echoed the "pioneering and brave historic distillers of the spirits category" while Gentleman's Collection adopted a "quirky educator" role.
But Ron Cregan, head of business development at agency Sedley Place, suggested "the brand language and label for 19 Crimes references not wine, but rum and grog". Gentleman's Collection borrowed from craft beer, he added, which could damage its credibility.
The challenge was greater than brand messaging, it was about ritual, added Dan Monteith, partner at agency Hornall Anderson. "It's about rituals," he said. "Drinking beer, as opposed to wine, is embedded in the DNA of our culture. Young men drink beer. You drink wine while making dinner or having dinner parties - the sort of experiences young men don't usually participate in."
TWE is also carrying out an official UK launch for its red blend 19 Crimes (rsp: £9.99), which has been listed by Asda and Conviviality since May. The push will involve working with 25 social media influencers that don't typically talk about wine to explore aspects of the brand and less expected ways of serving it.

Both 19 Crimes and Gentleman's Collection, which is already available in Australia and the US, aim to reach young male drinkers by tackling a number of barriers to purchase present in the category, said Heyes. These include a lack of relevant brands, unengaging packaging, and intimidating products that require knowledge to buy with confidence.

19 Crimes takes its name from the list of offences for which British convicts could be transported to Australia. They range from grand larceny and assault with intent to rob, to clandestine marriage and impersonating an Egyptian. Each bottle features one of the 19 crimes printed on its cork.

Since launching in the US three years ago, 19 Crimes has become one of the top 15 selling red wines in the country [Nielsen].