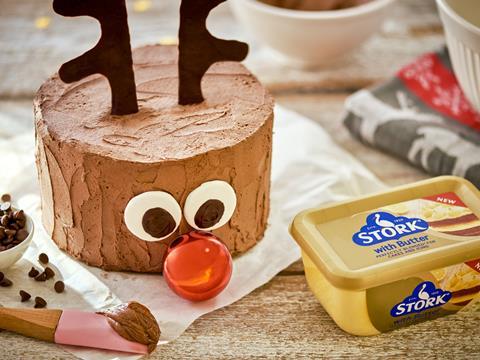 Unilever UK has embarked on a £1.6m push to encourage home bakers to choose Stork with Butter for festive baking this Christmas.
A new TV ad, launched last week and due to run until 24 December, depicts the creation of two Rudolph cakes - one with conventional block butter and one with Stork with Butter.
"It communicates to consumers that 'every cake is a winner' when you use Stork with Butter, creating light, fluffy cakes with rich, creamy icings and a buttery taste every time," said Rhiannon Carr, brand manager for Stork at Unilever UK.
The TV ad will be supported by digital display, VOD and sponsored social media activity to promote the new spread, which Unilever claims has performed "exceptionally well" since its launch in May 2015.
Stork with Butter has generated value sales of over £1.2m, with almost one million units sold in its first six months, the company claimed [Nielsen: Total value sales MAT - September 2015].