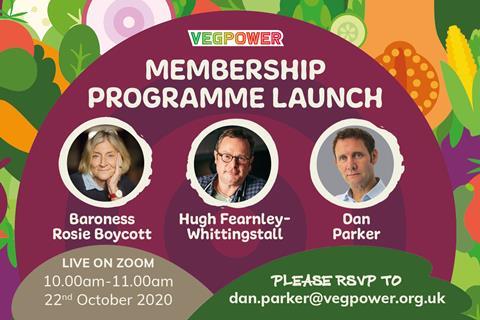 A collaboration of supermarkets, media owners and celebrities today urged the grocery industry to come together to boost a campaign to end a chronic lack of vegetables in children's diets.
An event today, hosted by celebrity chef and campaigner Hugh Fearnley-Whittingstall, saw the launch of a new membership programme to raise funds for the campaign, with businesses including growers, caterers, retailers and suppliers being urged to get involved.
Originally supported by a crowdfunding campaign backed by Fearnley-Whittingstall and Jamie Oliver, 'Veg Power' has set out an ambition for every child aged two to 19 to eat one more portion of vegetables every day, a target that would equate to an extra 326 million kilos of veg eaten every year.
It was behind the landmark Eat Them to Defeat Them advertising campaign with ITV in January 2019, whilst The Grocer revealed this year that its The Peas Please initiative, involving retailers such as Tesco, Sainsbury's and Greggs, had led to an additional 90 million portions of veg being sold.
Veg Power said it wanted to involve more suppliers and retailers in the campaign, with the latest figures showing more than 90% of children fail to eat their recommended three to five portions of veg a day, with 25% of 11 to 16-year-olds failing to eat any.
It said the membership campaign would be used to support Veg Power's expansion, allowing it to release regular market analysis reports, enrich its schools' programme and launch a year-round seasonal vegetables initiative.
"As each generation eats fewer vegetables than the one before, our children's dietary health declines, their weight increases and the long-term outlook for the horticulture industry is worrying," said Baroness Rosie Boycott, Veg Power chair.
"Veg Power was set up to see what would happen if we used the brilliant and creative minds of the advertising industry to promote the humble vegetable, and so far through the work of the Eat Them to Defeat Them campaign, more kids are seeing vegetables as fun, and children, their parents, schools and retailers are all reporting a direct increase in sales and consumption. But for this to continue and to secure lasting change, we need reliable core funding to support our work."
Steve Challouma, general manager UK of Birds Eye, told The Grocer the Veg Power initiative was "the best example I've ever seen of industry collaboration" but said the launch aimed to "lower the barriers of entry" and to expand the types of companies getting involved.