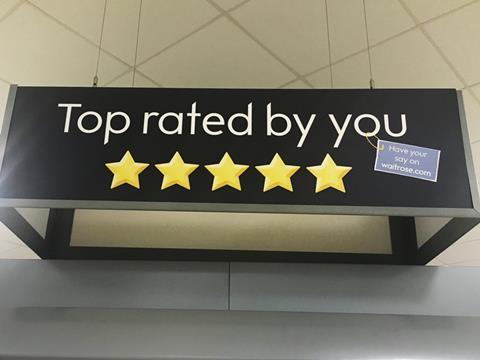 Waitrose has launched a major new marketing push using customer reviews to highlight the quality of its products in-store.

The new Top Rated campaign highlights products that have been given its top 5-star rating from shoppers placing orders at Waitrose.com.

Their comments left on the site are then quoted on shelf-edge PoS featuring the 5- star ratings.

Comments currently being used include the following for Waitrose Tender Egg Noodles from Sue151. She states: "Good value and great tasting noodles. Perfect for my stir-fry!" Another from a customer called Waverley1 was for Waitrose fresh asparagus tips. It said: "We buy this asparagus every Saturday, to have with steak. Always tasty and fresh."

Waitrose said a product had to be given at least five reviews of 5-stars and an average of four stars before being incorporated.

The campaign has initially chosen 23 products divided between chilled and ambient, with one facing for each in stores.

The Top Rated campaign started this week (Wednesday) and will run until 4 October with repeats up to four times a year to incorporate seasonal products.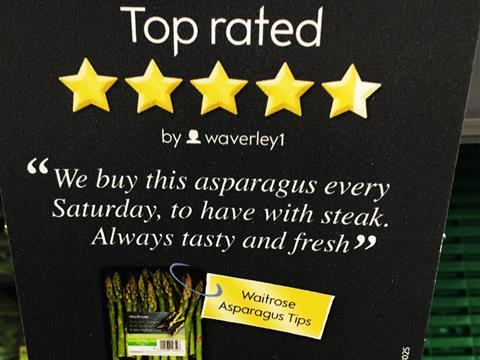 "Customer reviews and ratings are a trusted and well used form of reassurance and inspiration when considering making a purchase," a spokesman said. "This is an opportunity to be genuine and transparent about our products."

The PoS includes shelf wobblers positioned alongside the selected product as well as overhead signage and aisle-end barkers.

The wobblers state the products have been rated by customers on Waitrose.com and were correct at the time of going to print.

Waitrose said it was constantly looking at product reviews and ratings to ensure it was always improving.

This is the third time Waitrose has run a customer ratings and review campaign since the concept launched in autumn 2015. However, it's the first it's included the 5-star rating. Last week Rob Collins promised to "turbocharge" existing Waitrose stores after the company's half year results showed like-for-like sales had fallen 1%. Collins said he would be putting resources into existing stores while at the same time revealing a £25m write-down of property assets, comprising seven sites where it was no longer going to open new stores.

Online sales, which account for 5% of turnover, grew by 4.3% in the first half