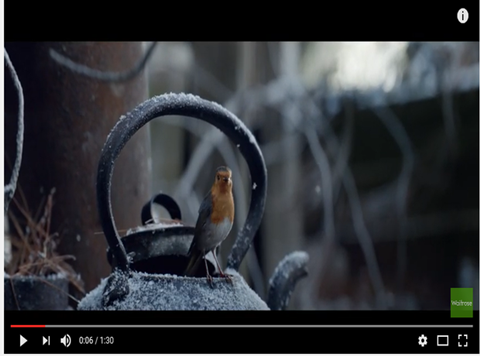 Waitrose is launching its "most creatively sophisticated" Christmas TV ad yet today during ITV's The X Factor results.

The 90-second 'Coming Home' (below) ad features a computer-generated robin making a perilous journey across mountains and stormy seas to get home to the UK in time for the big day, with a soundtrack adapted from the score of the film The Theory of Everything.

When the robin finally reaches its destination, it finds a reward in the shape of a Waitrose 1 mince pie, which had been left out in the garden by a child.

Waitrose said the theme of the ad was "the spirit of connection" during the festive season and the joy of welcoming guests.

"Coming home is a central theme at Christmas when welcoming, hosting and providing a special meal for loved ones is at the heart of celebrations," said Waitrose marketing director Rupert Thomas.


"Sharing the best possible food and drink with family and friends is one of the great joys of the festive period and we hope that the determination of our robin resonates with viewers as they follow his journey back to where he belongs.

"It's a story of love, courage and the importance of enjoyment with family and friends."

Communications agency Adam&eve DDB, which created the ad, also stressed the importance of the message. "It's a warming story that speaks to the spirit of togetherness in the festive season and the joy of just coming home," said Adam&eveDDB executive creative director Richard Brim.

The ad will be in cinemas from 14 November in 2D and as 3D from December with an interactive game about the robin's journey on social media.

A book telling the story of the advert will also go on sale from 14 November.

Waitrose will be using the robin image in-store and online throughout the Christmas marketing period with robin-related products on sale from today including kitchenware, clothing, toys and gift wrap.