From food-themed beauty products to wedding planning for dogs, April Fools' Day was an excuse for brands and retailers to get creative and have a laugh with consumers. Here's our pick of the best pranks.
Heinz Beanz with Weetabix at Asda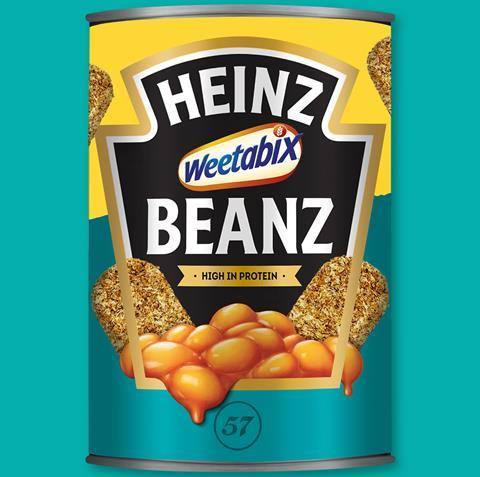 After their unlikely partnership went viral earlier this year, Heinz Beanz and Weetabix marked April Fools' Day with their first collaborative product. The 'launch' came courtesy of Asda, which announced that the tins of baked beans studded with mini Weetabix would be available exclusively in its stores "from 00.01am until 11.59pm on Thursday April 1".

Frankie & Benny's Meatball Bath Bomb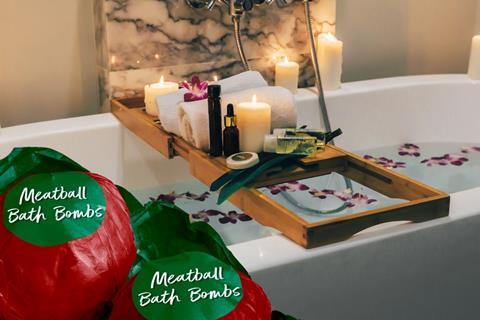 Have you ever loved a meal so much you wanted to bathe in it? Well, Frankie & Benny's is offering consumers the chance to do just that with the launch of a meatball bath bomb. The Italian-American restaurant chain says its April Fools' fizzer, which brings "all of the aromas of the mouth-watering dish to your bath time", is the perfect way to mark the 25-year anniversary of its classic dish, Meatballs al Forno. Lovers of the restaurant can be "whisked away to your local Frankie & Benny's in a matter of seconds" with the product, which gives off "scents of pork and garlic, followed by chilli and tomato before hints of lemon and black pepper" when dropped in the water.
Designed to imitate the size of real New York-style meatballs, the "larger than average" bath bombs will be available from the Frankie & Benny's website throughout April (rsp: £9.99/200g). Each order of the bath bomb will come with a free dish of Meatballs al Forno to enjoy at home – in the bath or otherwise.
Goodlife Falafel Ice Cream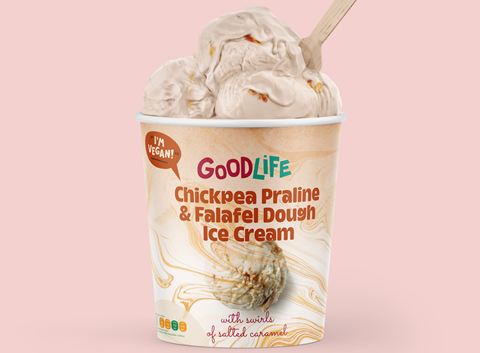 1 April marked a move into ice cream for vegetarian and vegan brand Goodlife, which is better known for its range of veggie burgers, sausages and falafel balls. It took the latter product and created a first for UK freezers: a dairy-free Chickpea Praline & Falafel Dough Ice Cream with swirls of salted caramel. Although not a permanent addition to the range, Goodlife gave Brits the chance to win one of the tubs on its Instagram.
Biotiful Doggy Kefir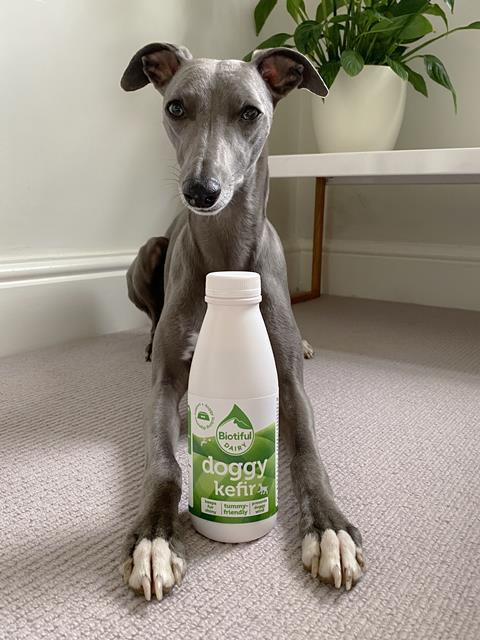 According to Biotiful Dairy, "supporting doggy's gut health is as important as supporting humans". So this April, the brand is launching a version of its kefir for four-legged friends to enjoy. As well as being tummy-friendly, Biotiful's Doggy Kefir is said to prevent wind and keep fur shiny. The product – which is really Biotiful's original kefir in special packaging – was announced on social media this morning and modeled by Instagram-famous pooch, Bodhi the blue whippet.
Pringles Lip Balm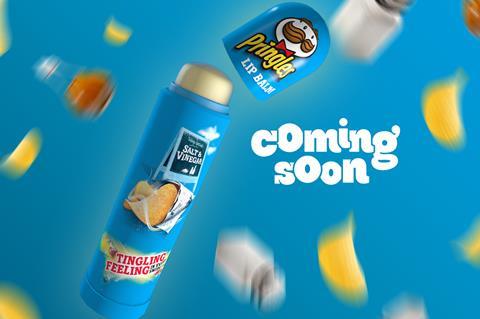 Inspired by consumers that say they "love the tingle left on their lips after snacking on Pringles", the crisp brand launched a duo of lip balms ahead of April Fools' Day. Available in two of the brand's popular flavours, Salt & Vinegar and Sour Cream & Onion, the balms mark Pringles' first foray into the beauty market. They are said to be launching soon in Pringles stockists.
Feast It and Poppy's Picnic Dog Wedding Planner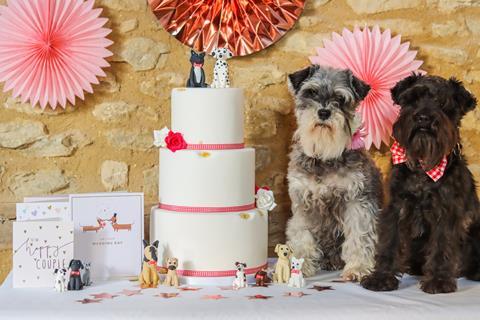 After countless weddings were put on hold due to the pandemic, couples are rushing to book a date for their postponed nuptials this summer, with 500,000 ceremonies expected to take place. But human lovebirds aren't the only ones keen to tie the knot, according to Feast It and Poppy's Picnic. The events planning company and raw dogfood brand have teamed up this month to launch Woof Weddings, a planning service for doggy weddings. While Poppy's Picnic will provide the catering, Feast It will offer all the essentials for the paw-fect day, including tennis ball bouquets, edible confetti and canine grooming packages. The company's first ceremony is booked for 21 June, when Poppy, chief dog at Poppy's Picnic, will marry her long-term partner Gary the Schnauzer.
McCain Upside-Down Potato Smiles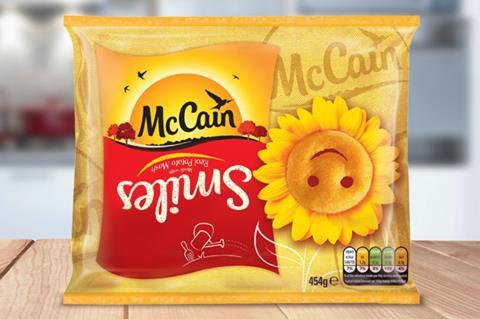 McCain is putting a twist on its classic potato Smiles this month – a 180-degree twist to be exact. Meant to replicate the sarcastic upside-down smiley face emoji, the Upside-Down Potato Smiles (rsp: £1/454g) are available today only in Iceland stores and online. The retailer's head of product development, David Lennox, said: "You may think it's just a potato smile the wrong way round, but a lot of design, recipe testing and trials went into this – we're no fools".
Haribo and Crayola edible crayons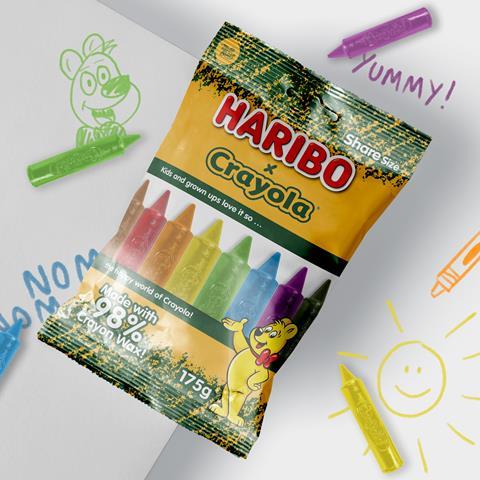 Many parents will have struggled to stop their little ones from chewing on crayons while drawing. But these confectionery crayons from Crayola and Haribo are meant to be eaten. Created by brand agency MadeBrave, the 'sweets' are made from 98% wax and come in "nostalgic, mouth-watering flavours" such as red, blue, green, orange and yellow. Delicious.
Mash Direct Ice Cream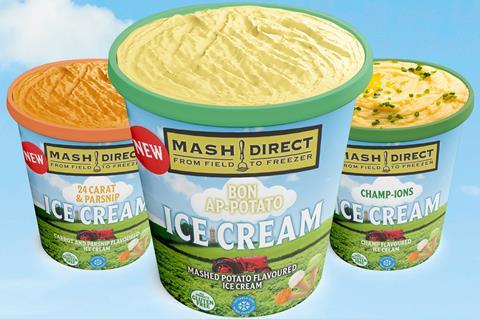 Forget field to fork. Mash Direct is going field to freezer with its new range of ice creams, announced today. The prepared veg brand has blended its mashed potato, champ and carrot & parsnip lines with ice cream for three flavours: Bon Ap-potato, Champ-ions and 24 Carat & Parsnip. The range is said to be available from the major mults, convenience stores and independents for a limited time only.