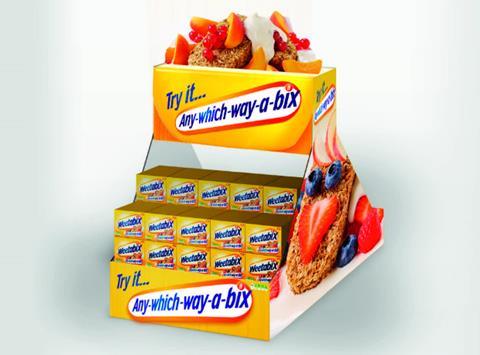 Weetabix is to launch 'Any-Which-Way-A-Bix', a campaign that will include the brand's first new TV advert in almost two years – as part of a £10m spend for 2019
Kicking off in January, the new ad will follow the 'Jack & The Beanstalk' pastiche that made its small screen debut in March 2017, resurrecting the 'Have you had your Weetabix?' strapline.
The 'Any-Which-Way-A-Bix' commercial – details of which are currently under wraps – will run as part of masterbrand activity that reflects Brits' growing preference for customising their cereal. Around 130 million bowls of Weetabix alone were personalised each year, according to the brand.
The 2019 drive would "celebrate all the unique ways Britons enjoy their Weetabix, with fun and playful recipe inspiration on TV, on pack, online and in-store". It will run across "all channels" including in-store and social media, on which users will be encouraged to create and share their own personalised Weetabix breakfasts.
"People all over the UK are personalising their morning breakfast bowl with different fruits, nuts, yoghurts, milks and many more exciting options" said Torben Sherwood, senior brand manager at Weetabix. As the UK's number-one cereal brand, it was "perfectly placed to celebrate this trend" he added.
It comes as Weetabix's core grocery range is down 2.8% in value to £136m, with volumes down 2.4% [Nielsen 52 w/e 8 September 2018].