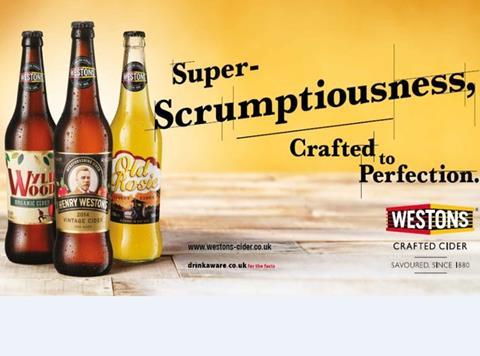 Westons is kicking off its biggest ever above-the-line investment in higher-end cider brands Henry Westons, Wyld Wood and Old Rosie.
The £1m push, based around the slogan 'Crafted to perfection', will see outdoor ads for the brands appear at 600 sites across the UK until the end of July. With versions for six-sheet and 48-sheet billboards, the ads, created by London agency Pulse, depict all three drinks and feature the message 'Super-Scrumptiousness, Crafted to Perfection.'
The outdoor ads will be followed be a digital campaign across online sports and lifestyle magazines from July to September. This will ask consumers, 'What kind of cider are you?' – with rewards for those completing a series of questions about themselves.
"This is our biggest ever investment in above-the-line advertising for our traditional range of cider brands, and now seemed to be the right time to promote to consumers the genuine craftsmanship that goes into making Henry Westons, Old Rosie and Wyld Wood," said Ian Lewis, head of marketing at Westons.
"Broadly speaking, the three brands of cider attract a similar consumer type, however each has its own attributes that appeal to slightly different consumer sets, which will be evident from the results of the 'What kind of cider are you?' digital activation from July."
Westons' retail sales are up 15.5% to £34.5m [IRI 52 w/e 25 April 2015].
Last week, it announced its biggest outdoor campaign to date for its mainstream cider brand Stowford Press.