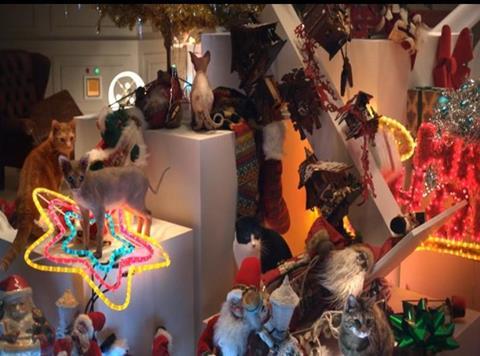 An ad for cat treat brand Whiskas Temptations has been named the most compelling festive grocery commercial, new data shows.

The 'Keep them busy' ad - which features a number of forgotten felines wreaking havoc among Christmas trees, decorations and presents before reminding viewers to 'treat them too' - ranked in first place with an emotional engagement score of 91.8%, using research conducted on the facial expressions of 4,450 people.

M&S's Christmas with Love ad was second with a score of 89.4%, followed by Febreze's The 12 Stinks of Christmas with 89.2%, the Realeyes/Lucid study of 64 adverts found.

Tesco, Waitrose, Asda, Sainsbury's and Lidl also appeared in the top 10 chart, alongside whisky brand Bell's.

"The purpose of advertising is to get the tills ringing and evidence is mounting that its people's emotional responses that determine what goods they buy and from where," said Realeyes CEO Mihkel Jäätma.

"Humour wins this year, with Temptations, Febreze and M&S being the highest scoring grocery ads. However, the grocery sector in general is still more likely to play on the sentimental side of Christmas, exemplified by ads from Sainsbury's, Waitrose, Tesco Ireland and Lidl Ireland."

The findings also showed that almost all of the ads in the top 10 appealed to women, which was 'especially true of Waitrose', but less so with men. "Whether this is a failing, or actually very clever targeting from those supermarkets given women may be considered more likely to be the ones shopping at Christmas remains to be seen," Jäätma added.