M&S CEO Steve Rowe announced last week the retailer was conducting an in-depth review of its food business. With its latest annual figures showing like-for-like food sales down 0.3%, M&S is urgently examining ways to improve pricing, availability and innovation.
So what should M&S focus on as it reinvents its grocery proposition? We asked retail and grocery experts for their take.
Range
Innovation was once at the heart of M&S's food. It was known for stocking the best products with added convenience and built a reputation based on those core concepts.

"M&S used to be a brave retailer where customers found upmarket innovation," says retail consultant John Butler. "It used to do everything first in chilled food to supreme quality, but they've stopped doing what they were best at."

M&S's fall from grace on the innovation front is perhaps best summed up by its widely lampooned £2 cauliflower steak.

Speed is part of the problem, suggests one own label supplier. "They are always behind the trend," he says. "Innovation is limited and takes months to launch."

To make matters worse, rivals are catching up fast on quality, and at a fraction of the price, with Aldi and Lidl stocking their own high-end ranges.
Regaining its reputation for top-quality meals, along with wider chilled and fresh produce, should form the bedrock of a recovery plan, says Butler. "It needs to stop focusing on packaged groceries because their core shoppers don't go there for half-price biscuits or big brands; they're looking for novel, quality food."

Jemima Bird, former Co-op marketing director and founder and CEO of retail consultancy Hello Finch, sees an opportunity in better storytelling. "M&S was once known for being proudly British, so perhaps introducing a story behind each brand and championing them could drive sales," she says.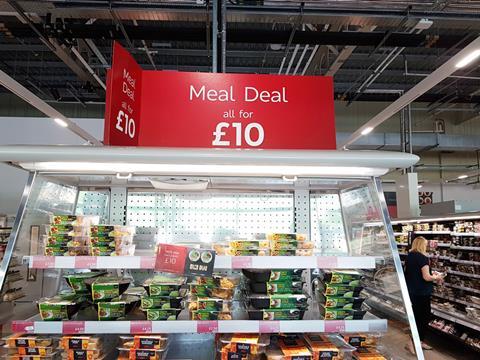 Price
Price remains a key industry-wide driver as traditional retailers fight back against discounters. M&S is in the uncomfortable position of having to reconcile that pressure with its premium reputation.

"There is no doubt the quality is excellent," says the supplier. "Their products are the best we supply. However, the premium they add in the retail price more than reflects this. They have a loyal base of shoppers who will stick with them whatever, but they have not really grown for years and are now losing those occasional shoppers."
M&S knows it has to do something on price. Just this week it launched a new Summer Salad 6 promotion, offering six seasonal fruit and veg lines for 50p each. The deal has clear echoes of Aldi's Super Six deals, which have in recent years been embraced by Tesco and Asda.

Bird believes M&S could perhaps even go one step further. "Something like Waitrose's Essentials range could draw consumers in with basic groceries before snaring them with luxury items."
Supplier relations
In order to successfully bring in either exciting innovation or consistently lower prices, M&S will need its suppliers on board. This can be difficult in the face of falling sales. Butler believes M&S's recent poor performance has suppliers "holding back".
"To achieve continued lower prices for customers, the retailer has to engage with suppliers to show it is doing what's right for customers," he says.

Crucially, M&S will have to make it easier for manufacturers to do business with it, warns the supplier source. "Their quality requirements are so arduous that their supply base is limited, as the cost of doing business with M&S is so high and is very complex."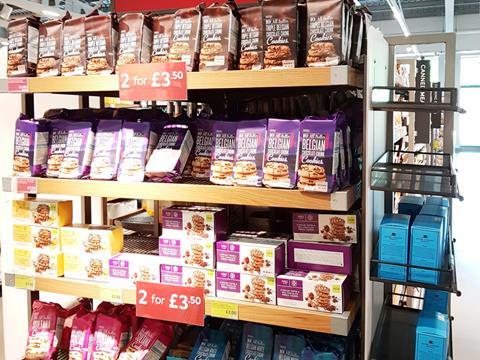 Stores
Independent retail analyst Nick Bubb says M&S "over-expanded" its 1,035-strong UK store estate in its glory days and believes it needs to grind its pace of new store openings almost to a halt. And indeed, M&S store closures are set to exceed 100 by 2022, plus there are 15 fewer Simply Food stores than scheduled opening this financial year.

"We are making good progress with reshaping our store estate to be more relevant to our customers and support our online growth plans," says Sacha Berendji, M&S's retail, operations and property director. "Where we have closed stores, we are seeing an encouraging number of customers moving to nearby stores."

Well over half (57%) of the stores due for closure are in retail centres defined as below average, according to CACI's Centre Health metric, measured on factors including customer numbers and spend, store revenue, how it compares with local competitors and the quality and quantity of stock.

The changes also emphasise how much M&S is pushing to get "its online offer right, and leverage its food estate to support online fulfilment," says Matthew Soffair, managing ­consultant at CACI.
Online
Indeed, the rise of online retailing has had a "major impact on M&S's profits" according to David Sables, CEO of Sentinel Management Consultants.

Although M&S has yet to launch a grocery delivery service, its clothing and home business began online selling in 1999. Even that website, however, is not up to scratch, Rowe has conceded.
Digital expansion will form part of its transformation plans, but, for the time being at least, an online grocery delivery service will not be part of that, with Rowe saying he has yet to see a "compelling reason to invest in it". This is despite long-standing rumours M&S will introduce online grocery delivery, fuelled by trials at its Camden and Merton stores.

However, M&S is barking up the wrong tree by even considering an online food business, says Bird, as its model just doesn't fit. Its limited range and 'food for now or tonight' options are not well suited to a profitable delivery business.

M&S's key focus for now, therefore, will be fixing the in-store proposition. And judging by our experts' feedback, it will have plenty on its hands doing just that.