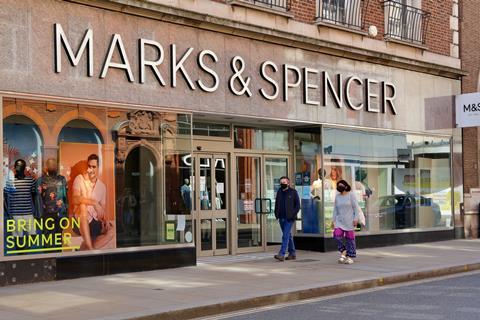 M&S has pledged to cut its own carbon footprint by a third by 2025 as part of a new carbon emissions commitment.
The retailer has revamped its sustainability programme, also known as Plan A, to include new environmental milestones.
It has set out a detailed roadmap to becoming a net-zero Scope 3 business across its entire supply chain and products by 2040.
The target would see M&S hit full net zero 10 years ahead of the government's national strategy, and will require rapid decarbonisation of its business across all operations.
The company's CEO, Steve Rowe, told stakeholders and colleagues during a series of business-wide events, that achieving these targets "won't be easy" and that M&S "must act now to rapidly cut our footprint".
"We now face a climate emergency, and in resetting Plan A with a singular focus we can drive the delivery of net zero across our entire end-to-end supply chain.
"We need to transform how we make, move and sell our products to customers and fundamentally change the future shape of our business."
M&S intends on becoming net zero across all operations groupwide by 2035 and then extended that goal to supplier and consumer emissions by 2040. According to the retailer, around 97% of its Scope 3 carbon emissions come from the supply chain.
Some measures M&S has put in place to help decrease emissions across its supply chain include committing to zero deforestation in palm oil and soy sourcing as well as sourcing more sustainable fibres by 2025.
"This is not a far-away promise," Rowe said.
"To deliver this, we need our colleagues to better understand the carbon impact of our products and processes, we need to back our suppliers to innovate and adapt to the changing environment and we must work together to help customers enjoy lower carbon lives."
Read more: How can UK retail reach its zero-carbon target by 2040?
M&S introduced new colleague initiatives as part of its net zero framework – including identifying 100 colleagues as "Carbon Champions" across key roles in buying, sourcing and operations to help drive the goals, as well as developing a carbon literacy programme for all staff.
From a consumer point of view, the retailer is launching a new incentive programme to reward its 12.5 million Sparks customers when they donate clothes to its Shwopping partnership with Oxfam.
M&S first launched Plan A in 2007 with the goal of fighting climate change by implementing sustainable practices across all operations.
The programme has been reviewed a few times over the years to better reflect ongoing concerns and new government guidelines.
The group also said it is resetting its approach to investment "to ensure Plan A sits at the very centre of its investment decisions" as it moves into the next phase of its transformation.
Read more: Five things we learned about net zero at The Grocer's sustainability conference
Other supermarkets have also been announcing new carbon emission targets ahead of Cop26 next month.
Earlier this week, Tesco too announced a commitment to achieving net zero emissions across its entire value chain by 2050.
And in July, Lidl announced an ambitious target to become carbon neutral by 2022 with a series of new climate pledges that will also see suppliers obliged to set targets.