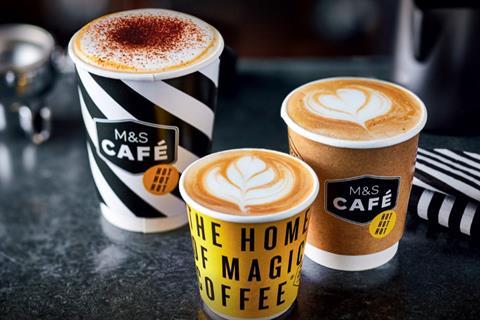 M&S is claiming a retailer first with the rollout of a fully recyclable paper fibre cup across its cafés.
M&S has dispensed with a hard-to-recycle plastic layer usually found in coffee cups by using a material claimed to replicate the same barrier effect while being certified plastic-free.
The new cups are available from today across 20 sites including M&S Cafés, vended coffee points, and Marketplaces within its Foodhalls such as Stratford City, London, Leeds White Rose and Cheshunt. The retailer plans to roll them out to every M&S Café in the coming months.
It follows its introduction earlier this year of paper fibre lids, which M&S said had received a strong customer response.
The new cup will remove 20 million units of plastic packaging each year from the M&S Food business, according to the retailer.
"With one in every two of us visiting a coffee shop several times a week, the long-lasting damage coffee cups can have on the planet without being properly recycled is huge," said M&S Food MD Alex Freudmann.
"That's why we were determined to bring a sustainable alternative to what's out there today, and we're proud to offer customers the first fully recyclable coffee cup on the high street."