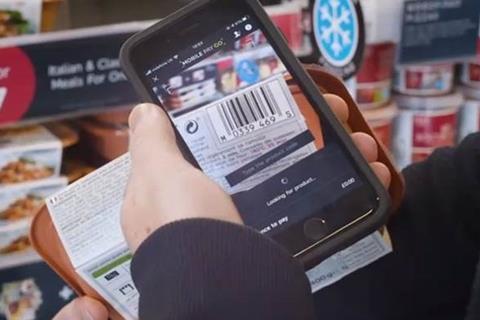 Customers can now use the M&S app to pay for their shopping in 310 food halls, up from 100 locations previously.
Users scan the barcodes of items they wish to purchase before paying through the app with the card they have saved on it.
It is designed to give customers a contact-free experience.
This is the latest step the retailer has taken as part of its Never the Same Again transformation programme to create digitally connected stores through the rollout of technology.
It follows the relaunch of M&S's loyalty scheme Sparks into a digital-first initiative earlier this month, and includes providing high-quality wi-fi in stores and at click & collect desks.
Both Sparks and the Mobile Pay Go initiative are housed in the M&S app to allow shoppers to easily spend their Sparks rewards when paying with it.
M&S is encouraging shoppers to make use of the app with additional décor and point of sale signage in all 310 stores, as well as an instructional video on to its website and social media channels.
It's also running an incentive scheme whereby customers can refer a friend to the technology. Once they sign up, both parties receive £1 off their next Mobile Pay Go purchase.
The retailer said it had seen a "significant move" towards contact-free shopping during the Covid-19 pandemic, with more than 10,000 new regular users of Mobile Pay Go since March.
The technology was first trialled at six M&S stores in London – Edgware Road, Bankside, Waterside Paddington, West Hampstead, Canary Wharf and Stratford Westfield – from October 2018.
"As part of our Never the Same Again programme, we're accelerating the pace of our transformation, and that includes creating digitally connected stores that are fit for the future," said Helen Milford, director of stores at M&S. "This rollout takes our increasingly popular Mobile Pay Go technology nationwide for the first time, allowing more customers to enjoy a seamless checkout-free experience through the M&S app.
"With more customers starting to return to the workplace, this provides a quick and convenient lunchtime solution; making it easy to pop in, grab your items and be on your way."