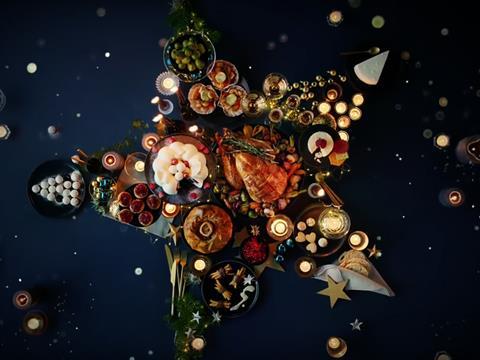 M&S has been rapped by the Advertising Standards Authority (ASA) for what it found was a "misleading" advertisement claiming last year's Christmas dinner offer was cheaper than the previous year.

The retailer made claims in a national press advertisement seen on 19 December 2017 that it offered customers comparative Christmas dinner items for £10 less than in 2016, and that it was the only supermarket where Christmas dinner cost less than the previous year.

The ad was based on a survey by the Good Housekeeping Institute, comparing the price of Christmas dinner for eight people made up of like-for-like staple items, such as Christmas cake, from the UK's top 10 supermarkets.

M&S submitted a fresh turkey in 2016 and a frozen one in 2017, as it did not have a fresh equivalent available for the 2017 study, as well as a premium Christmas cake in 2016 followed by a cheaper one in 2017. Customers were not made aware of the substitutions either on the M&S website or as part of the ad.
The retailer stated that the survey's requirements meant it had no choice but to submit a frozen turkey in 2017, as the Good Housekeeping Institute had asked for comparable items of a certain size and weight, rather than, for instance, items of like-for-like quality or part of the same range.

The ad did, however, have accompanying text stating that its comparison was based on the survey from the Good Housekeeping Institute, and outlined that the intention of the survey was to highlight what consumers could pay at different supermarkets for a typical Christmas dinner based on a specific items, and how the price of that basket then compared with the supermarkets' 2016 equivalents.

M&S trusted that the products were comparable and, taken together with the details made available in the small print, considered the ad was not misleading.

While the advertising watchdog noted this and agreed the substitutions were of the same type of product, it said they were not of the same quality and therefore not comparable. The ASA considered the ad was likely to mislead consumers because accompanying text was not sufficient to override the impression of the ad - that customers could purchase the same type and quality of traditional Christmas food that M&S offered in its 2016 dinner offer, but at £10 cheaper.

It informed M&S that its future advertising for such offers "must not suggest they are offering items of the same quality as in previous years when it is not the case".

The ASA ordered M&S to no longer show the advertisement in its current form. M&S was also told to ensure its advertisements do not suggest that offers are a like-for-like comparison with its competitors' unless it is actually the case and can be supported with adequate evidence.

A spokesman for M&S said: "We're disappointed by the ruling as we made it clear it was a Good Housekeeping Institute survey, we followed their criteria to the letter, and we believe we made the differences between the 2016 and 2017 baskets clear, Regardless, we will, of course, abide by the ruling."