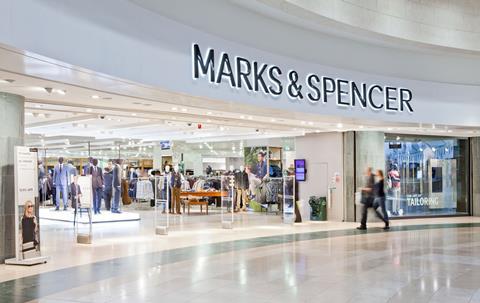 M&S has confirmed plans to reopen the majority of clothing space on 15 June and today set out safety measures ahead of the date.
The retailer said experience from running nearly 600 food stores through lockdown had given staff extensive experience of social distancing measures that would be rolled out to clothing departments.
It would be helped by the fact its 260 stores selling clothing and food each had a single manager, who already had working knowledge of the hygiene measures necessary during the coronavirus crisis.
A member of staff will be on hand to manage the number of shoppers entering the store, to keep queues short and maintain social distancing inside.
Hand sanitiser would be available for customers on arrival and baskets would all be metal to make them easier to regularly clean, M&S said.
As in the food stores, signage and floor markings are being installed to remind customers of social distancing guidelines.
Bra fitting, suit fitting and kids shoe fitting services will remain closed to avoid close contact.
Cafés are also to remain closed to sit in, but 49 will be selling hot drinks for takeaway.
"I've never been prouder to be part of the M&S team than over these past few months," said M&S retail operations director Andrew Walmsley.
"Our store teams have been brilliant at implementing the necessary social distancing and hygiene measures to help customers shop our food, and we'll be bringing those lessons and insights over to Clothing & Home.
"Preparation is now well underway for the 15th – from the installation of Perspex screens at tills, to putting in new signage. Whilst shopping may feel different, there will still be the same great service and expert advice customers expect of M&S."