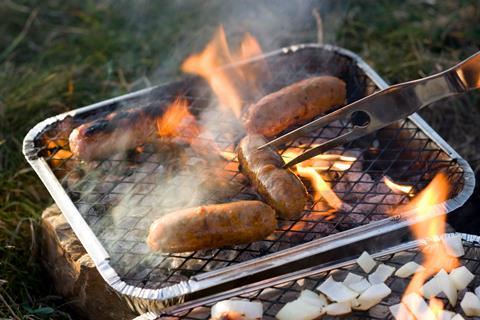 Marks & Spencer has stopped the sale of disposable barbecues in all of its UK stores over fire risk concerns as the country battles unprecedented warm weather conditions.
The retailer, which had already removed disposable barbecues from stores near national parks and in London, has now decided to stop selling the portable grills at all branches to "protect open spaces and reduce the risk of fires".
After a customer in Surrey pointed out that it was potentially risky to sell disposable barbecues in the region given how "tinder dry" the surrounding area was, M&S tweeted:
"At M&S we want to help protect open spaces and reduce the risk of fires. We'd already stopped selling disposable BBQs near national parks and in London, but given the unusually hot and dry conditions, we've taken the precautionary step of removing them from sale across the UK."
Hi @marksandspencer is it wise to be selling these in your (excellent) Woking store, given how tinder dry the surrounding area is? @SurreyFRS pic.twitter.com/9hNvEaCE5k

— David S 🇬🇧 (@viewerD) July 31, 2022
The London Fire Brigade welcomed the grocer's decision, tweeting it wanted to "work with retailers to stop the sale of disposable barbecues and reduce the risk of dangerous grass fires".
The move comes after Aldi and Waitrose announced earlier this year they were banning the sale of instant barbecues from their stores.
One of our staff took this photo recently, showing damage from a portable BBQ.

Let's all play our part to keep our open spaces safe:

🥪#BurgerOff with your BBQ pack a picnic instead
🌳Don't host campfires/bonfires
🗑️Dispose of cigarettes & litter correctly@SurreyFRS pic.twitter.com/mDryXOcEQ3

— Runnymede Borough Council (@RunnymedeBC) August 2, 2022
The LFB has warned that disposable barbecues "pose a significant fire risk" when not put out properly, and has called on the government to ban the sale of the portable grills from stores altogether.
"We need urgent action now to see a national ban on the sale of disposable barbecues," London's fire commissioner Andy Roe said last week. "They can be bought for as little as £5 and can cause untold damage, especially when the grass is as dry as it has been over the last few weeks."