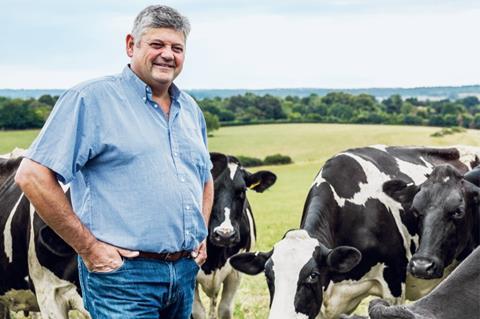 A new campaign will feature interviews from farmers and growers across the country

M&S will use new décor and signage in stores to shine a spotlight on British products

It has also increased promotions on beef products to help drive up volumes for farmers
M&S has reinforced its commitment to British sourcing with a raft of new initiatives designed to support the 10,000 UK farmers that supply it with food.
The retailer has written to the government and major farming unions to address wider coronavirus-driven industry challenges around milk volumes and the supply of labour in produce, while outlining M&S's ongoing commitment to support each agricultural sector – such as dairy and beef farmers – amid the collapse in the foodservice and hospitality industries.
It will also launch a six-week campaign tomorrow (28 April) – spanning TV, social and in-store marketing – that would put "the fantastic efforts of British farmers and growers at the forefront for customers".
The campaign will include using 'farmer cam' footage on its website and social channels with interviews from farmers and growers across the country.
M&S will also shine a spotlight on British products across its stores with new décor and signage and will air newly re-edited versions of its Fresh Market Update TV series following ITV's 6.30pm news, which goes behind the scenes at M&S Select Farms across the UK.
Read more:
Responding specifically to the current carcase balance crisis gripping the meat sector, the retailer has increased promotions on products such as steak, in a bid to drive up volumes for farmers.
M&S said its new, 100% British meat food box – available as part of its new online delivery range – would also support British farmers by offering shoppers products such as Aberdeen Angus beef burgers, beef casserole steak and rump steak (rsp: £45 for 11 separate items).
It has also committed to sourcing 100% British lamb from June, has moved to support horticulture suppliers by introducing bedding plants into 200 of its food halls this month, and said it continued to guarantee "a leading and fair price for milk through its Milk Pledge". M&S stressed it would always purchase the volume it had committed to, regardless of customer demand.
"Despite the enormous challenges they are facing, our family of 10,000 British farmers are supporting us to deliver fantastic quality, fresh food for our customers, so we want to do our bit to support them," said M&S Food MD Stuart Machin.
"That is why we are standing by our long-standing British sourcing commitments, introducing new initiatives to tackle the problems our agricultural sector faces, and – through our new campaign – reminding customers of the incredible food our nation's farmers produce."