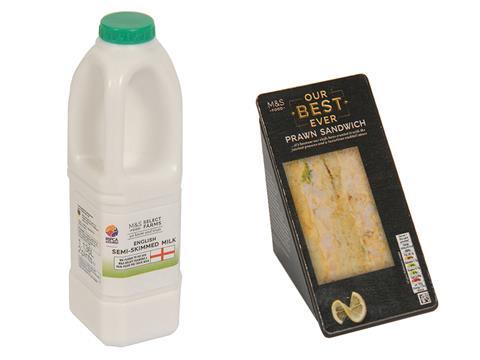 Ever since I joined M&S Food last April, I have been clear about the challenges we face and clear about what we need to do: we have to become more relevant, more often, to more families across the UK.
We're at the early stages of our transformation, but we have a far-reaching plan to protect the magic that makes M&S Food special – our quality, our exceptional sourcing and our famous innovation – while modernising the rest of our business in areas like supply chain and stores.
As part of this process, we must have the confidence to try new and different things, and get on with it despite commentary from the sidelines. After all, the original, pioneering M&S spirit was about listening attentively to customers but being bold with first-to-market products and innovation.
We have built a strong team that is both creative and commercial, combining M&S experience and some new leaders who bring different thinking to the food group. Our new Little Shop initiative is just one part of a much bigger transformation plan to broaden our appeal to families and shake up how we engage with customers. M&S is at its best when we're serious about food but don't take ourselves too seriously. And Little Shop is all about fun. We are keen to see if it works and take the learnings!
Initial feedback has shown little ones (and grown-ups) love the mini collectables concept. We've seen real excitement from customers who want to complete the collection over the summer and add some of our most iconic products to their play kitchens at home.
It's a great opportunity for colleagues and customers to create a real buzz during the summer months (especially at our 70 swap events) and give families more reasons to visit and shop with M&S.
However, while we're not taking ourselves too seriously, one thing we are serious about is plastic.
Reducing, reusing and recycling plastic matters to our customers, it matters to our industry and it really matters to M&S. I know questions have been raised (including by The Grocer) about how Little Shop fits in with our wider commitments on plastic – and rightly so.
That's why our Little Shop collectables have all been designed to last, and a quarter of them are made from Forestry Stewardship Council-certified card. We are encouraging customers to 'play, give, recycle' to ensure no M&S Little Shop collectables go to waste. After 'play' we encourage customers to 'give' collectables to friends or family (we've heard of some schools requesting them for role play areas already) or they can bring them back to our food information desks, so we can pass them on via our 70 swap events.
If there are any leftover collectables after the campaign, we'll recycle them through our plastic take-back scheme. This means we'll give them a completely new life and turn them into new playground equipment for schools.
What's more, we have full traceability on this recycling process, which is happening here in the UK.
M&S Food is changing and changing fast. Our vision is to build a bigger, bolder and faster business. First-to-market, family fun initiatives like Little Shop are a sign of that momentum in our plan to make M&S Food more relevant, more often.
As we continue to "protect the M&S magic and modernise the rest", you'll see plenty more like it.