M&S COO Stuart Machin has written to the PM asking for the government's support in building a "thriving, sustainable" food sector. Here's a copy of his letter in full.
Dear Prime Minister,
I wanted to write to you, with our key supplier partners as co-signatories, to talk about how we can work together to build a thriving food sector in the UK.
Over the past two years, the food industry has worked around the clock to feed the nation whilst managing the 'once in a century' challenge arising from Covid and Brexit. As the nation's largest private sector employer, it is a testament to the hard work of our fantastic colleagues that we have been able to navigate these challenges. Throughout this period, the Government has been a valued partner.
But as we look ahead to 2022 and beyond, we need to continue that partnership to build a sustainable, resilient food sector for the long term.
We support your vision of a higher wage, higher skill economy, however this cannot simply be turned on like a light switch.
Higher productivity derives from profitable firms investing in the UK in the knowledge that they can get the skilled labour required. This will require years of transition, supported by an integrated strategy to develop skills and encourage investment.
The UK economy is experiencing a resurgence in demand for employees because of economic recovery at the same time as a loss of skilled labour as the pandemic changed lifestyle habits and brought forward retirement. In many areas, there has also been a pause in training and development due to restrictions, and a substantial reduction in migratory employees.
Coupled with inflationary pressures due to commodity shortages, the labour shortage is in danger of becoming a chronic medium-term issue in the food sector and could deter new investment in the UK.
Most importantly, it will – in the end - drive further price rises; hitting the pockets of hard-pressed customers, whose finances are already being stretched by rising energy bills and increasing interest rates.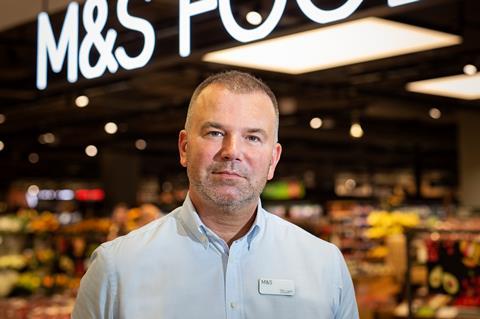 Nearly half of all UK vacancies are in the UK food and drink sector; around 500,000 in total. These are causing acute problems in some sectors. In particular: in poultry the labour shortage has been as high as 35% over the past six months leading to a material reduction in UK poultry of c.12% (with similar declines in pork); and in produce, there has been a drop in some categories, including vegetables, of up to 35%.
It would be wrong to frame today's challenges as a short-term cyclical supply issue or one that can be easily solved by paying higher wages. The food sector has already enhanced pay and reward (paying on average £10.50 and up to £15 per hour for skilled positions) and found new ways to target and market roles, as well as making changes to increase capacity.
And this isn't a problem that can simply be solved through automation. The food industry is already at the forefront and using new technology where possible, for example in our stores and depots, but the nature of many of the businesses in the supply chain mean that they will always be reliant on entry level as well as skilled labour, for example hand picking asparagus or soft fruit to protect it.
We have increased pay where it was needed – for example offering recruitment and retention bonuses for key roles, invested in better training – for example for HGV drivers, improved the overall benefits and working conditions of our growers and pickers including offering family-friendly contracts, found innovative ways to increase recruitment and redeployment, as well as further optimising efficiency in our supply chains which are already world-leading.
However, despite this action, there remain shortfalls in UK food production which will inevitably be filled by imports from the EU and further afield where quality is often lower and adding unnecessary emissions. And what has become abundantly clear during the pandemic is that we need Government support to minimise any threat to supply chains, because when they shift it is very hard for them to return to how they were before.
M&S has a proud history of supporting British agriculture, including commitments to sourcing British, and only recently we announced all small suppliers will be paid within seven days. However, the pressures facing UK food and farming are real. We cannot let the period of transition be an excuse for the retail sector to divert supply abroad and unravel a farming sector that delivers high standards of quality, welfare, and innovation, and – by default – increases our reliance on imports.
So, we are asking the Government to work in partnership with us to build the thriving, sustainable, sector we all want to see.
1. Recognise the centrality of the agri-food industry in the Government's innovation strategy.
We want to see a plan explicitly designed to foster innovation and productivity with part of the UKRI budget earmarked for research into food production. A Food and Agritech Research Council could build on areas such as vertical farming, or berry varietal research where the UK is potentially world leading but facing competition from countries with much greater commitment to research and enterprise sector engagement.
2. Repurpose the Apprenticeship Levy to create a business-friendly national skills programme.
The Government's objective of increasing wages and productivity urgently needs underpinning with an enlightened national programme not just for high level skills in science but for "middle skills" such as HGV driving, production line maintenance, laboratory testing technicians, and automated distribution supervision. For instance, part of the food and agricultural sector levy payments could be channelled into a "food sector challenge fund" to train data science skills or automation and production skills in areas of the country where they are most needed.
3. Integrate the Visa programme into the national supply side food strategy.
The purpose of the post Brexit visa programme was to ensure we attract to the UK from around the world and secure the skilled and committed employees we need. Sensible adjustments to the programme would not undermine its purpose and would provide transitional relief whilst the UK's own skills programme takes effect. For instance.
- Greater flexibility on HGV drivers who are in demand across Europe. 2–3-year visas would be a way of giving the UK competitive advantage whilst we build up our own fleet.
- An urgent review by the Migration Advisory Committee (MAC) on the requirements for the food and farming sector, in the same way it is doing for adult social care. Probably we need a permanent, revised and expanded Seasonal Worker Scheme for UK horticulture and agriculture, with minimum visa lengths extended to 12 months.
- Greater flexibility on English language requirements with employers committing to train workers with language skills whilst on the job, and completion of this training becoming a condition of the visa.
4. Frictionless trade for Northern Ireland and EU goods movements
We need a long-term sustainable solution for goods movements into Northern Ireland. We do not want to see Northern Ireland becoming increasingly reliant on goods from overseas at the expense of British manufacturers. We believe a solution can be achieved by using technology that can clearly show product from GB that moves to Northern Ireland stays in Northern Ireland. By using this technology, you should be able to remove certification requirements. We also strongly believe that with similar technology and common sense we can make any border frictionless with no material detriment to customs controls or food safety. This could be achieved by a Facilitated Movement Scheme which would be based on having a framework where only approved and accredited firms could move from 'every product checked and 100% accuracy' to a risk-based approach underpinned by statutory enforcement, an audit scheme with requests for certification and physical checks based on risk and specific intelligence, and penalties for failure.
The past two years has shown what we are capable of as a sector, and we are proud to be part of it. We all want the British food industry to have a sustainable future, but this will need both Government and industry to act together. Decisively and quickly.
Yours,
Stuart Machin
Chief Operating Officer and M&S Food Managing Director
Rob Cumine, M|anaging Director, Capestone Organic
Ranjit Singh President, Poultry Boparan Holdings Ltd
Chris Morley, Managing Director, Gressingham Foods
Jim Brisby, Chief Commercial Officer,Cranswick plc
Jon Jenkins, Chief Executive, Muller UK and Ireland
Robin Jones, Managing Director, Village Bakery
Mike Edwards, Chief Operating Officer, Bakkavor
Andy Parsons, Group Managing Director, Park Cakes
Kevin Moore, Deputy CEO, Greencore
Simon Wookey, Group Exec Board Director, Samworth Brothers
Phil Whelan, Chief Executive Officer, MM Flowers
Kuldip Kular, Chief Operating Officer, G's Fresh Ltd.
Nick Allen, Chief Executive Officer, Berry Gardens
Alex Newey, Chairman, Greosn Group