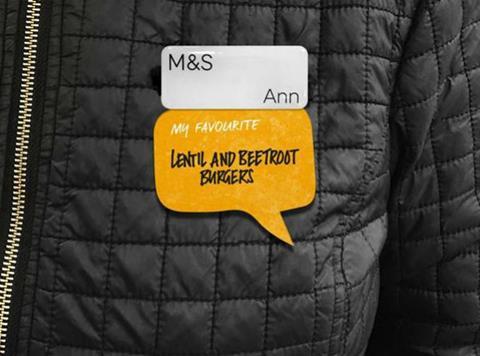 M&S has launched a customer engagement campaign that will see its 53,000 Foodhall employees wear badges underneath their name badges showing their favourite M&S product.

Designed to harness the endorsement power of its shopfloor workforce, the My Favourite M&S campaign has been introduced in more than 1,000 of the retailer's stores today. The campaign will also be showcased through shelf edge labels illustrating M&S employees' product recommendations for customers.

Head office employees, meanwhile, are showcasing their favourite products in their email signatures.

It comes in response to M&S research that revealed personal recommendations mattered more than anything else when it came to influencing purchases. it also found that 90% of customers were more likely to buy an item that had been recommended to them by a member of staff.

"From our much-loved Percy Pigs through to our famous Cornish Cruncher Cheddar, M&S sells amazing food and everyone has their favourite," said M&S food marketing director Sharry Cramond. "Our colleagues are really proud of the products we sell and, in an era of personalisation, when nothing matters more to our customers than a friendly recommendation, this gives M&S a real advantage. We want to have some fun with customers over the summer with this campaign and we're kick-starting it by using the influence of our people to get the nation talking about their favourite M&S products."

The Disney Store's 'cast members' sport name badges with their favourite Disney character underneath their name, while Odeon employees wear name badges listing their favourite film.