This article is part of our Meat, Fish & Poultry Report 2015.
The UK meat market could beef up sales by more than £95m by adopting new butchery techniques.
That's according to levy body ADHB Beef & Lamb (formerly known as EBLEX), which says valuable cuts are being minced and sold cheaply for stewing across the UK because butchery techniques have not changed for 50 years.
"In Britain we have the best meat in the world but the way we butcher and manufacture carcases hasn't changed since the sixties," says head of trade marketing Mike Whittemore. "We are still cutting across the muscles rather than cutting along the seams. We could do it so much better to get the best value out of the carcase"
ADHB Beef & Lamb: How to add £25m to the beef market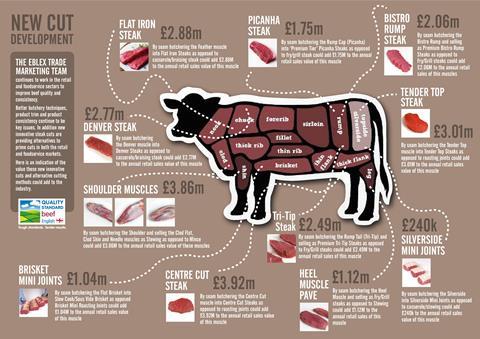 For example, in the UK, meat from the forequarters of the cow is traditionally sold as braising steak or mince, which fetches a lower price than prime cuts such as rump or sirloin. US and European butchery techniques allow cuts such as Denver or Flat Iron steak to be be removed intact and sold for frying or grilling.
Not only do frying and grilling cuts fetch a premium over mince and meat sold for stewing, demand for them is on the up. Volume sales of frying and grilling cuts have climbed 4% in the past year [Kantar Worldpanel 52 w/e 24 May 2015]; stewing steak is down 4.6% and beef mince is down 1.3%.
The growth of frying and grilling cuts has driven value sales of beef up 1.4% to £2.17bn on volumes down 0.2%. The rise in average price reflects the growing use of three for £10 deals on frying and grilling cuts, rather than straight money off deals, says Whittemore.
The lamb market is in worse shape, with value down 5.1% to £633m on volumes down 5.3%. "If we don't start doing lamb better and getting it right at the point of sale it's going to continue to struggle," says Whittemore. "It's as simple as that."
ADHB Beef & Lamb has calculated that seam butchering lamb leg joints and selling cuts such as topside mini joints, shanks and sliverside mini joints could add a whopping £63.2m to the UK market (see below).
ADHB Beef & Lamb: How to add £70m to the lamb market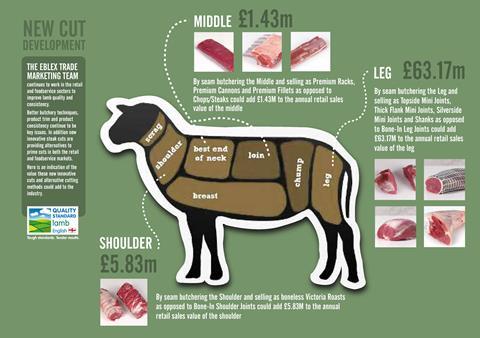 Top cuts
We asked ADHB Beef & Lamb's Mike Whittemore to pick his favourite seam butchered joints. Here's what he came up with…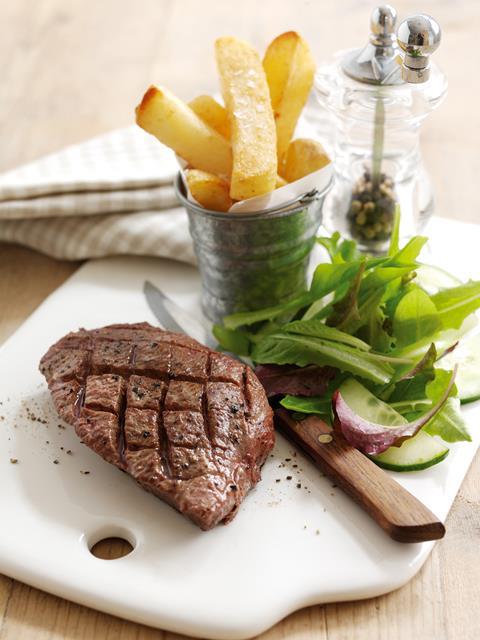 Beef: Flat iron steak (left)
Flavoursome, relatively tender and one of the biggest success stories of the British beef market in recent years, according to Whittemore. Since ADHB Beef & Lamb began promoting flat iron steak as a cut for frying or grilling, rather than brasing, £1.9m has been added to the market, the body claims. "There's cost element to extracting this muscle of course," says Whittemore. "Butchers might say 'I haven't time to be buggering about with this' but it gives a quality cut that'w worth a premium."
Lamb: Cannon
This can rival the best beef sirloin or rump steak, says Whittemore: "Grill it medium and it's absolutely to die for." The cannon is one half of a loin of lamb, trimmed and rolled. Famed for its tender, lean meat.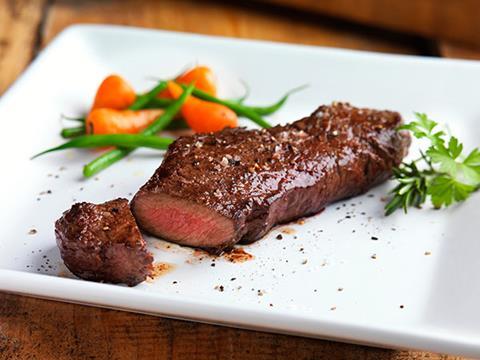 Beef: Denver steak (left)
Not as tender as a sirloin or rump, but still full of flavour, says Whittemore. "The Denver Steak has been overlooked but it still great for frying or grilling," he says. "It's best cooked rare to medium, one minute on each side and a minute to rest."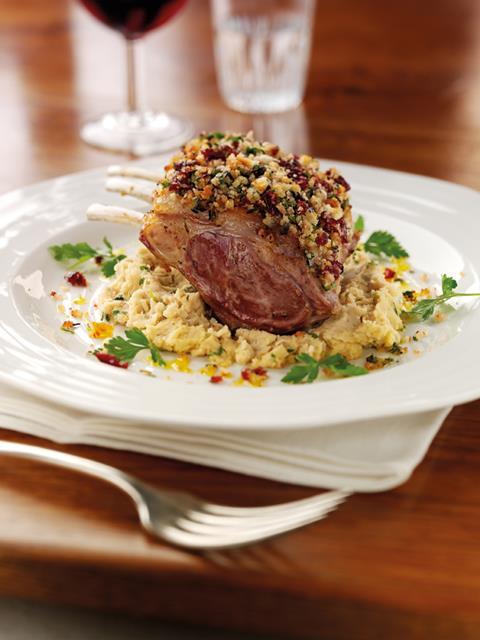 Lamb: Three bone rack (left)
Why chop up the middle of a lamb into individual steaks and chops, when you can create a three-bone rack of lamb like this? "This is really putting lamb back on the pedestal," says Whittemore. "It's a real treat."
Beef: Tri-tip
ADHB Beef & Lamb reckons this cut could add a cool £2.5m to the market. By seam butchering the rump tail, you can extract the tri-tip, also known as the Newport Steak in New York. Whatever you call it, the cut is known for being full of flavour and relatively low in fat.
Lamb: Mini roast
Lamb has an image problem: it's what your granny used to cook, not what young professionals rustle up after a hard day at the office. ADHB Beef & Lamb is trying to change all that by promoting mini roasting joints rather than larger on the bone-in leg joints. By doing so, it hopes to add £63m to the market.