This article is part of our Meat, Fish & Poultry Report 2015.
In 1952, Bernard Matthews bought 20 turkey eggs and a second-hand incubator. By the 1980s, starring in his own ads, Matthews was a household name, his catchphrase 'Bootiful' turning the eponymous empire into a household name and transforming turkey from pricey Christmas treat into mainstream protein, thanks to everyday products like Turkey Drummers.
The good times wouldn't last. By the time of his death in 2010, aged 80, the poultry giant was in serious decline due to a series of controversies and calamities, with Jamie Oliver's attack on its Turkey Twizzlers in 2005, allegations of animal cruelty by staff in 2006, and a bird flu outbreak in 2007 all taking their toll.
Despite several attempted turnarounds, financial results continued to disappoint. In 2005 Bernard Matthews recorded an operating profit of £33.6m on sales of £480m. By 2007 it was loss making, and has been almost every year since, reaching its nadir with a £18.1m pre-tax loss in 2012/13.
"I don't think we quite recovered from the whole Turkey Twizzlers scenario," admits new CEO Rob Burnett, who took the helm last July after 12 years as CEO of Hain Daniels, referring to TV chef Jamie Oliver's attack on the notorious frozen line in his popular School Dinners show. "And perhaps the focus wasn't on moving the market forward and innovating. This company was built on innovation, so when it stopped innovating, it stopped growing consumption and stopped being relevant to consumers."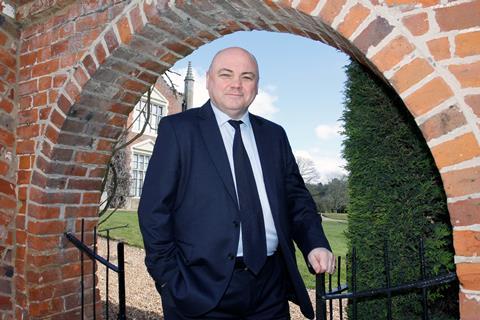 Name: Rob Burnett
Age: 51
Place of birth: Aberdeen
Marital status: Married with two daughters Nicola and Sarah, 26 and 23
Employment history:
July 2014: CEO Bernard Matthews
2002-2014: CEO Hain Daniels; CEO Daniels Chilled Foods
1994-2002: MD Albert Fisher Seafood Division;
commercial director Albert Fisher Group; MD Macfish; commercial director Macfish
Best career decision: Joining food industry with Marshalls of Edinburgh after initially working in non-food
Worst career decision: No regrets
Career highlight: the jump from functional to general management with first MD role
Career lowlight: not being good enough to play for Glasgow Rangers
Best piece of advice received: Make a decision and move on
Business mantra: As simple as possible
Business idol: My father – work ethic, excellence, and pride in the job
Hobbies: Golf, music
Favourite meal: Turbot on the bone
What book are you reading at the moment? David Copperfield and How Brands Grow
The business also developed a "siege mentality" says Burnett. "Self-inflicted blows or circumstance caused a number of things to go wrong, and got the company into the mindset of being defensive. But you don't win anything by being defensive."
The turnaround started in 2013 with the appointment of former MD David Joll in a non-executive director role. He implemented a plan to tackle declining sales and spiralling costs, securing a £23.5m cash injection from private equity group Rutland Partners in return for a majority stake. Results a year later showed "significant improvements": though sales fell, pre-tax losses were reduced to £3.8m. And although in May the business was rumoured to be in financial trouble after Rutland began looking for investment, Burnett rejects those fears, insisting the £10m cash injection would "speed up our growth and investment plans". With the latest financial year closing this week, he expects the business to return to profit in 2016. So what's the plan?
Chicken
The overarching aim is to bring back the glory days. And if anything sums them up it's the magnificent Great Witchingham Hall, the Elizabethan-era Norfolk mansion bought as a wreck by Matthews in 1955 for £2,500, that once served as a poultry farm and slaughterhouse and now serves as company HQ.
Dubbed 'Turkey Hall', the founder's presence is still very much felt, with pictures and bronze busts of the man himself adorning the wood-panelled walls. And strolling around the well-kept grounds talking turkey, Burnett is determined to keep moving forward.
"My first year with the company was about consolidation, getting the business back on an even keel, investing in the quality of the products and NPD, and investing in the farm infrastructure and factories," he says. "The company went through a recent history of sales decline and had some difficulties, but my focus, and the team's focus, is very much on growth."
Perhaps surprisingly, one of his big ideas for growth has nothing to do with turkey, but chicken. Burnett wants sales of chicken products to reach as high as 20% of its output over the next few years (chicken currently accounts for around 10%).
To achieve this, Bernard Matthews has already secured a major listing for an own-label cooked and sliced chicken product, with further own-label chicken lines under consideration, and it has plans for the launch of a branded chicken range this autumn.
"Turkey is core to our business and always will be but we want to fully utilise our product portfolio and agricultural assets," says Burnett. "We recognise we can use the skills and the facilities we have to innovate."
A revamp of the £100m, 100-SKU Bernard Matthews brand is also on the cards this summer, though Burnett remains 100% committed to nurturing the several hundred own-label lines, which account for 60% of turnover. "People would be surprised to hear who exactly we supply turkeys to on an own-label basis," he adds.
"We're the largest supplier of turkeys at Christmas and at other times of the year, and we have big ambitions to build on this," he says. But how?
"Part of my last business involved chilled ready meals, which is a £2bn market in the UK," he explains. "But in that market, there is not a single turkey ready meal, not one, and yet it is the healthiest meat – both low in fat and high in protein."
The list of possible ready meals is endless. "Think of everything you see using chicken," he says. "Although it won't just fall into our lap. We have to innovate and back it all up with consumer data."
And though there are 50 farms and five UK processing sites, it doesn't just mean "we'll manufacture it all", he adds. "We are also looking at licensing the brand to a partner – there is miles to go for turkey."
Another idea is to sell some of the company's successful products from its Hungarian and German operations in the UK. Asked whether he would ever sell these overseas divisions, Burnett says: "You never say never, but we are concentrating on working together."
Christmas
Bernard Matthews is also on track to be entirely self-sufficient in renewable energy by 2020 (it won Green Initiative of the Year at The Grocer Gold Awards earlier this month).
But inevitably it is Christmas on which he's most focused, and he has big plans. The company put a lot of investment into the peak Christmas period last year, he says, introducing a fourth production line for turkey crowns and Christmas joints, leading to "record high service levels and happy customers".
Burnett wants to eclipse that performance this year by running a big promotional campaign that will ensure "people understand that Bernard Matthews means Christmas. We are the biggest in this category, we have the heritage, and we have been the innovators," he adds. "The challenge for us now is to hold that ground."