This article is part of our Meat, Fish & Poultry Report 2015.
Fancy carving up a Sunday lunch of roast ostrich? Or chucking some crocodile burgers on the barbecue? As Brits tastes get more adventurous, exotic animals are appearing on the dinner table across the country.
Many of the mults now stock at least one exotic meat, from ostrich at Aldi and Tesco to kangaroo at Lidl, with Ocado soon to become the first high profile retailer to sell goat. So, what's behind this trend? And, what's going to land on dinner tables next?
"We've seen a marked increase in shoppers purchasing these speciality meats in a bid to add variety to the dinner table and to keep their diets more appealing," says Nigel Broadhurst, joint MD at Iceland.
So popular are these exotic meats that Iceland has expanded its range of Kezie frozen speciality meats to include Wagyu beef burgers, venison haunch steaks, kangaroo fillet and rabbit fillet. Broadhurst says Iceland's existing exotic meats, including wild boar & apple sausages, ostrich fillet and kangaroo burgers have sold "phenomenally well".
"The speciality meats are typically lower in fat and higher in protein, while most of the fish in our new range is naturally high in protein and rich in nutrients. Both of the new ranges are ideal for those looking to introduce quick, versatile and tasty meals into their diet," he adds.
Walter Murray, MD at Kezie Foods believes there is a lot of growth to be had by exotic meats, as people aim to eat healthier and increase protein intake.
The brand currently sells a wide range of exotic meats and edible insects (mealworm croquettes or buffaloworm burgers, anyone?) – including alpaca, llama, zebra and even camel – to trade customers and directly to consumers. However, he notes there are hurdles that need to be overcome to achieve the potential growth.
"The barriers for the wider acceptance of some of the more unusual meats and game on offer is probably the initial shock factor, convincing the consumer to try a food item which previously they wouldn't have considered as food. When people realise that in cultures all around the globe these animals have been eaten for generations they don't see it as unusual," Murray adds.
More consumers are taking the leap and giving these products a try. Although they are unlikely to rival the beloved pork, chicken and beef roast dinners – due to the limited supply – they could make for some interesting additions to the barbecue.
Murray concludes: "The British public clearly has a taste for the exotic that won't be going away anytime soon, with ostrich, kangaroo and wild boar all selling well nationwide."
Three of the best: exotic meats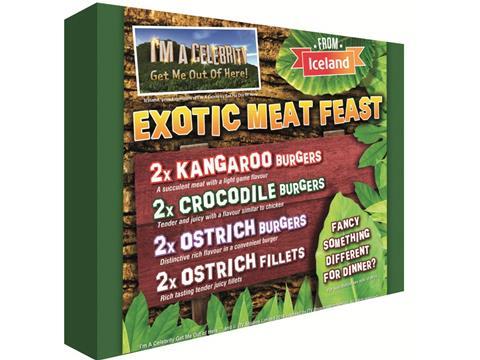 I'm a Celebrity Exotic Meat Feast – Iceland
To mark the return of ITV's I'm A Celebrity… last autumn, Iceland launched the £10 Exotic Meat Feast pack. It comes as some relief to discover that it comprises kangaroo, ostrich and crocodile burgers, and ostrich fillets; not the animals' nether regions often served up to gagging celebs on the show. Iceland says the kangaroo has a 'light game flavour' and tips the ostrich fillet as perfect for steak lovers. The croc is said to taste just like chicken.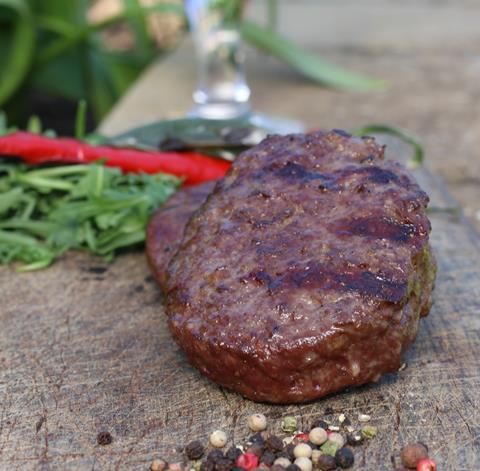 Buffalo, Tomato & Basil Burgers – Kezie Foods
Bored by boring old beef burgers? Thenn Kezie Foods might have the answer: buffalo. Its Buffalo, Tomato & Basil burgers contain 87% buffalo meat from Italy with a hint of sundried tomato and basil. Kezie says the performance of its range in Iceland has "surpassed expectations" and the uptake and feedback it has received from customers "is a great response to the exotic market as a whole".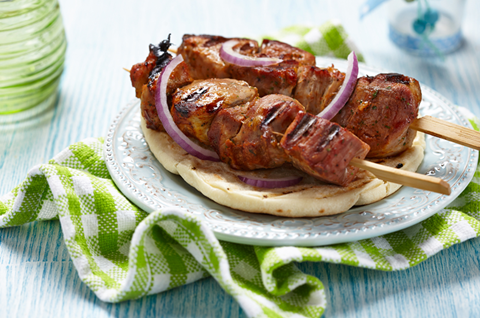 Marinated ostrich steaks and kebabs – Mossel Bay
Mossel Bay has jazzed up its ostrich steaks and kebabs with a Marrakesh Marinade - a dry seasoning with a dominant paprika base complimented by cumin, garlic and marjoram and a noticeable black pepper burn. The free-range ostrich meat is sourced from the Southern Cape in South Africa and is low in cholesterol and fat, but high in protein.