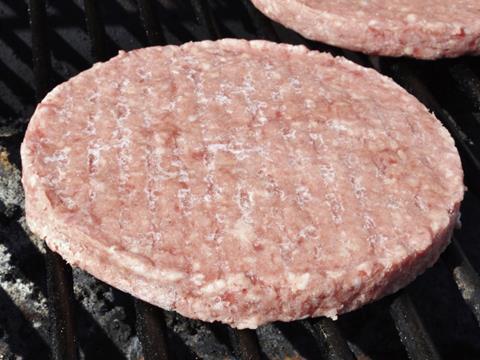 When retailers and suppliers made wide-ranging British sourcing commitments in the wake of Horsegate, UK beef prices soared. But more than 12 months on from the scandal, prices are falling again, with deadweight steers from the UK currently down year on year for the first time in four years.

Prices rose for much of 2013, as demand for British beef outstripped supply, but this trend has since been reversed, with prices down nearly 5% since the start of the year.

The reason? Last year was an extraordinarily good year for UK beef prices. Prime slaughtering stood at just 1.93m head - the lowest level since 1970 - and with the horsemeat scandal and the good barbecue weather increasing the already high demand for UK beef, prices peaked at £4.01/kg in July 2013 and stayed high for much of the third and fourth quarter.

But the high prices led to a slowing down in consumer demand, and the market is now feeling the impact. Consumers ate less beef in the run-up to Christmas and cut back more than usual on their beef purchases in January.

Meanwhile, production surged, with cattle slaughtering during the first quarter of 2014 expected to be up by 4% year on year.

As a result, UK beef prices fell to £3.65/kg at the end of February - down from £3.74/kg the same time a year ago. Prices have risen marginally in the past week due to reduced slaughtering, yet remain 1% lower than a year ago.

UK beef production is now expected to increase by 2% to 865,000 tonnes and exceed 2013 levels throughout the year. This, plus higher imports and stable exports, should make more beef available, easing the tight supply situation seen in 2013 and further suppressing prices.
Ukraine unrest continues to inflate wheat prices
The political unrest in Ukraine continues to take its toll on the grains markets. Ukraine is the world's sixth-largest exporter of wheat, and wheat prices have risen sharply on a month-on-month basis, though they remain lower than a year ago.
Similar dynamics are at play in the maize markets, with prices up month on month but still below last year's levels.
Meanwhile, the coffee price rally continues, with both arabica and robusta rising sharply month on month.
At the other end of the table, concerns about a drop-off in demand from China are pushing down copper prices, while diesel is down thanks to sterling strengthening against the dollar - it hit a four-year high against the dollar in February.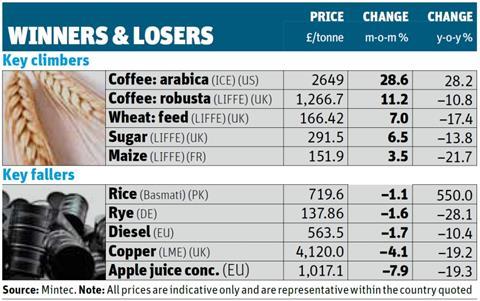 Crops: Despite some crop losses as a result of the recent floods, most UK winter cereals and oilseed rape crops are in good condition, helped by the mild air temperatures, which were typically one to two degrees above normal, environmental consultancy Adas has said in a new crop update.
Pigs: The UK pig sector is to get a new pricing mechanism to replace the DAPP, after key processors - including Cranswick and Karro - withdrew from the DAPP earlier this year. Bpex said the new price, called the GB All Pigs Price (GB APP), would be published for the first time on 16 April.
Wine: French wine prices have soared following a poor harvest for a second year in a row. The 2013 French harvest is expected to come in at 42.3 million hectolitres, according to Agreste - up slightly on 2012 but down on an average year.
Scotland: The winter crop area in Scotland was up 12% year on year in December, the Scottish government has announced.