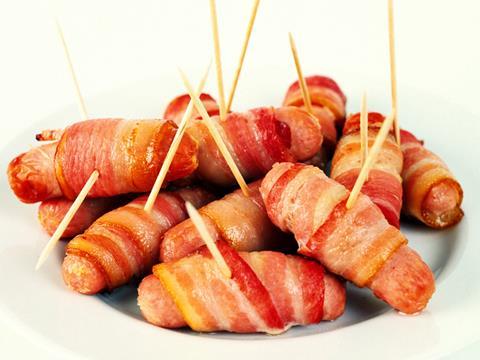 Bacon and sausages continue to feel the effects of the recent WHO cancer report, with Brits turning away from meaty treats over the Christmas period.

Supermarket sales fell by 6.4% year on year to £111.9m in the two weeks to 26 December, according to new data on Christmas trading released by IRI today. Bacon was particularly badly affected, with sales during Christmas week plunging 11%. IRI has not released volume figures as part of its update but said volume sales were also in decline, meaning the sales drop was not just down to cheaper prices or promotions.
It comes after bacon and sausage sales slumped in the wake of a controversial report by the WHO, which classed processed meat as a carcinogen. The WHO subsequently toned down its language, but the damage had been done, with The Grocer reporting sales had fallen sharply in the four weeks to 12 December [IRI]. The new data released this week confirms this trend continued in supermarkets right up to Christmas.
On a more positive note, however, British consumers took part in a Great Christmas Cake Scoff in the run-up to Christmas. The biggest growth within food was from Christmas cakes, pies and puddings, up 6.3% to £46.9m, and Christmas confectionery, up 8.8% to £172.2m - a trend that Martin Wood, IRI's head of strategic insight, retail solutions and innovation, said could be down to the 'Bake-off effect' giving people a taste for desserts. Alcohol also managed a significant boost - up 3.6% to £921m.

Across all categories, supermarket fmcg sales for the two-week pre-Christmas period were up 1.1% year-on-year to £5.79bn.

In non-food, there was significant growth for toys (up 19.8%), party accessories (+18%), books and gifts (+13.2%), stationery, cards and gift wrap (+8.7%) and flowers/garden, up 8%. But a severe decline in electricals, music and gaming - which were down 22.9% to £119.2m - meant total non-food was down slightly. This is despite the effect of Adele's album 25, which has sold 2.6 million copies in six weeks, largely on CD, overtaking FIFA 16 to become the year's best-selling home entertainment title.

The figures for the second of the two weeks suggest shoppers have left it later this year - a relief for retailers after IRI data for the previous four weeks showed total fmcg sales falling 1.5% to £9.54bn [IRI 4 w/e 12 December 2015]. Total sales in the week up to Boxing Day were in fact up 7.4% to £3.1bn, thanks to Christmas falling on a Friday - with food up 8.8% to £2.3bn.

"There was an extra peak shopping day in Christmas week 2015 compared with last year which helped push up the final week's sales figures, but the level of growth does provide some good news for supermarkets," said Wood.

"It shows people are feeling better off at last as wages rise and fuel prices come down, and also that shoppers have not completely abandoned mainstream retailers for the discounters. Competition with discounters has driven down prices, however, keeping value and revenues down even when volumes are up.

"The increase in sales of Christmas cakes, puddings and confectionery could be due to the 'Bake-off effect' giving people a taste for sweet things once again. They want to feature high quality cakes and desserts as centrepieces of their Christmas meal or party spread, but don't have time to create these themselves."