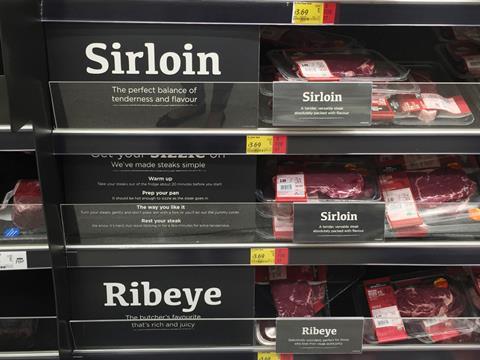 Retailers are missing out on the chance to boost sluggish red meat sales after pulling back from investing in PoS and secondary labelling, research by AHDB has suggested.

While some retailers such as Asda have recently trialled new meat merchandising formats, there had been a major withdrawal on PoS on the whole, said AHDB senior multiple retail manager Matthew Southam.

"The argument we hear is that PoS and secondary labelling creates too much clutter at the meat fixture," Southam added. "But consumers want more information and there is evidence that innovations such as tear-off barkers with recipe information can boost sales by as much as 10%."

Younger shoppers in particular were less proficient in how to cook red meat cuts, according to AHDB's survey of 2,000 consumers in August.

Some 23% of 18 to 34-year-olds stated they were not confident when it came to cooking red meat, compared with just 12% of consumers over 55. Almost half (47%) of the younger age group said they were likely to read secondary labelling information on packs including recipe and preparation guidelines, compared with just 27% of those aged above 55.

Red meat also struggled when it came to cut and meal innovation due to the lack of information available to shoppers, Southam said, with many shoppers not aware of how well suited a cut could be for a particular meal occasion.

"The research reveals that PoS material has an important role to play in educating and inspiring consumers to not only try new red meat cuts, but also give them the confidence to cook with those staple cuts," Southam said.

"It particularly highlighted that PoS resonates the most with millennials. As this is the consumer of tomorrow, it is vitally important to ensure that they consume beef and lamb in these earlier years and PoS can inspire them to do this at point of purchase," he added.