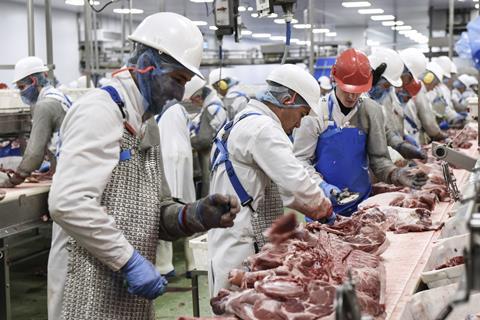 British Meat Processors Association CEO Nick Allen said closing staff canteens would put "additional strain on the supermarkets"

The Cabinet Office said the canteens could remain open, but with measures taken to minimise the number of people using them at one time
Meat sector bodies have welcomed a clarification by government that staff canteens at processing plants will be allowed to stay open throughout the coronavirus crisis.
The Grocer reported on Monday that new rules mandating the closure of cafés and restaurants under the government's lockdown were also understood to include staff canteens at food manufacturing plants such as abattoirs.
Applying the same rules implemented on the high street to foodservice operations within processing plants would "drive thousands of key workers into the shops to organise their own meals", warned British Meat Processors Association CEO Nick Allen.
"Apart from putting unnecessary pressure on to an already stretched workforce, it puts additional strain on the supermarkets to cater for a new group of consumers. It also makes social distancing that bit harder to achieve," he added.
Some plants had even been reported to the police, Allen said, "for running illegal restaurants".
But an update of exemptions to the rule, issued by the Cabinet Office, now allows for workplace canteens to remain open.
"Where there are no practical alternatives, other workplace canteens can remain open to provide food for their staff and/or provide a space for breaks," it said.
"However, where possible, staff should be encouraged to bring their own food, and distributors should move to takeaway. Measures should be taken to minimise the number of people in the canteen at any one given time, for example by using a rota."
Allen said he was "very pleased to have that clarity", while the Association of Independent Meat Suppliers said staff canteens provided "essential rest areas and food for key workers who are working flat out to put food into the supply chain".